scale bar = 1cm.
Hop Clover - introduced (*Trifolium campestre)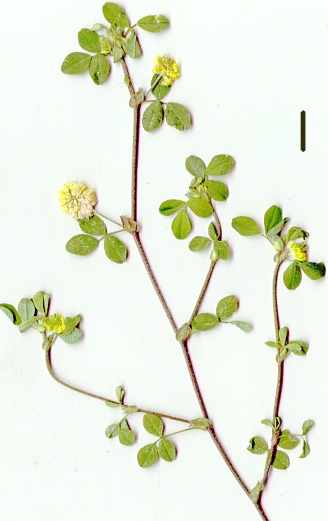 Family: Fabaceae (Pea family).
Native of the Mediterranean region and western Asia.
Occurrence: widespread and common weed roadsides, waste areas and gardens.
Identification:
the leaves have three oval leaflets
the stalk of the middle leaflet is longer than those of the outer leaflets
the small yellow pea-flowers are clustered in a dense, spherical clump at the end of the stalks
the flower stalks are longer than the leaf stalks
the flowers wither to brown, giving the flowers a papery, hop-like appearance.
Similar species: Suckling Clover also has yellow pea-flowers, which are not as densely clustered, and the flowers do not have the papery, hop-like appearance. The flowers of yellow flowered Medics are not densely clustered and the fruits are coiled pods.
Photos 1-3: Hop Clover. The tiny flowers are densely clustered into almost spherical heads. Castlemaine. 4: Terrick Terrick National Park.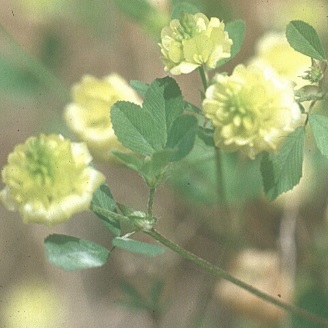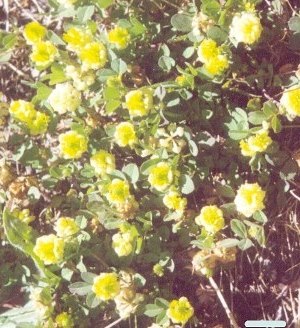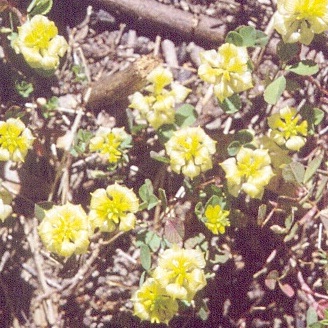 ---