scale bar = 1cm.
Sow Thistle - introduced (*Sonchus oleraceus)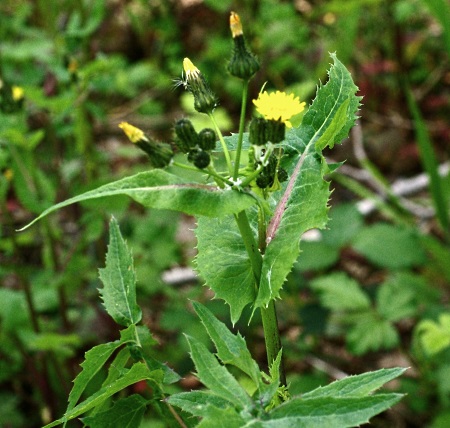 Other names: Milk Thistle.
Family: Asteraceae (Daisy family).
Native of Europe and south-western Asia.
Occurrence: A widespread and common weed. Grows in farmland, on roadsides, lawns and gardens and disturbed bushland.
Identification:
it is an erect plant to about half a metre high
the yellow flowers are partly enclosed by the green outer bracts
the leaves along the stem extend backwards to points
the leaves are lobed and toothed, but are not prickly
it has basal and stem leaves
the sap is milky.
Sow Thistle is a variable species and there is much variation in leaf shape. It flowers for most of the year.
Clammy Sow Thistle (
Sonchus tenerrimus
) is now included in
S. oleraceus.
Similar species: Rough Sow-thistle (Sonchus asper) has prickly leaves, is often stouter, and has rounded leaf bases.
Photos 1: Sow Thistle. The backward-pointing lobes at the base of the stem leaves are a distinguishing feature. Lyttleton Street.
2, 3, 4: Some of the variation in leaf shape. 5: Seed. all: Castlemaine.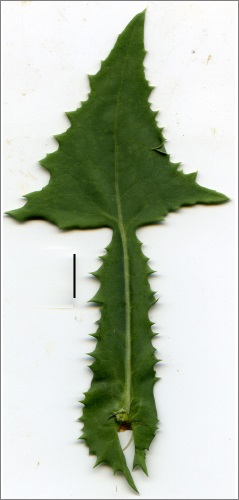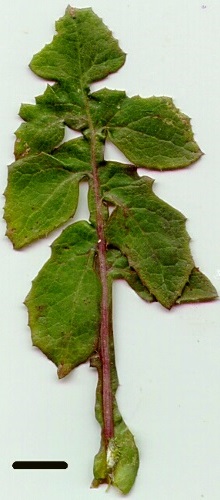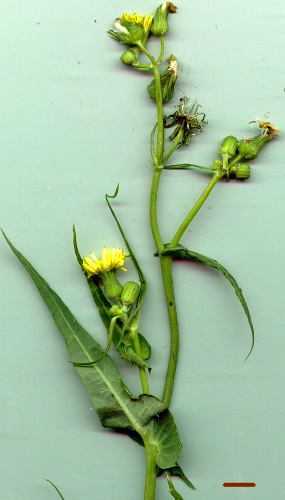 ---