scale bar = 1cm.
Rough Sow-thistle - introduced (*Sonchus asper)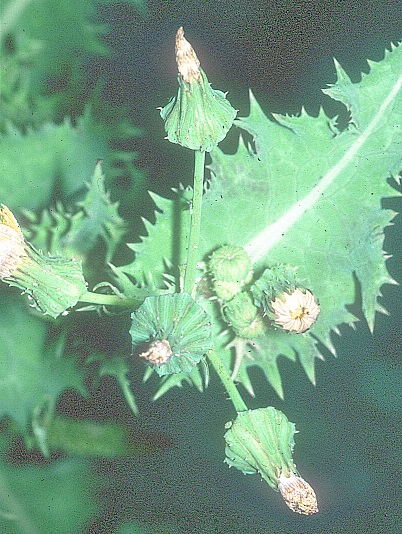 Other names: Prickly Sow-thistle, Milk Thistle.
Family: Asteraceae (Daisy family). Native of Europe.
Occurrence: Widespread weed in disturbed bushland, roadsides and waste areas. It is also an environmental weed.
Identification:
it is an erect plant to about half a metre high
the yellow flowers are partly enclosed by the green outer bracts
the leaves along the stem are rounded at the base; this rounded base encircles the stem
the leaves are lobed and end in spines
the sap is milky.
This is a variable species, with two subspecies occurring in Central Victoria.
Subspecies asper: A slender annual. Stem is less than 1 cm in diameter. Leaves are mostly along the stem, and are shallowly lobed.
Subspecies glaucescens: A robust annual or biennial. Stem is 1 to 2 cm in diameter. Leaves are in a basal rosette and along the stems. Leaves leathery, often bluish. Leaves deeply lobed.
Similar species: The very common Sow Thistle (*Sonchus oleraceus) has leaves which are variably lobed and are toothed, but the margins are not spiny. The leaves are not rounded at the base but pointed.
Photos: Top R: Rough Sow-thistle from above. 2-5: Rough Sow thistle. Castlemaine Botanic Gardens. Castlemaine.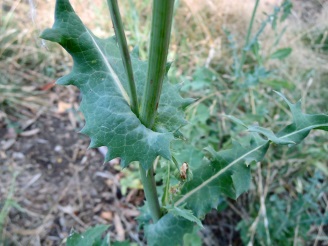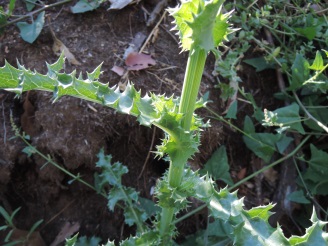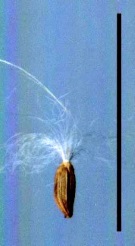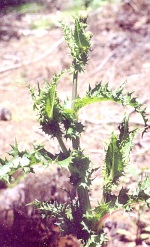 ---