scale bar = 1cm.
Slender Knotweed- a native (Persicaria decipiens)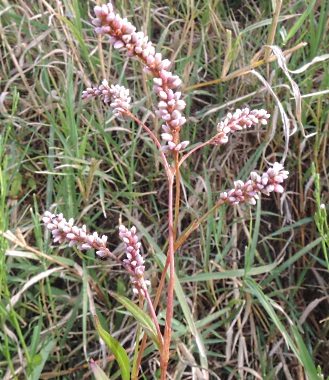 Family: Polygonaceae (Knotweed family).
Cosmopolitan, including Australia.
Occurrence: Grows beside streams, and the margins of swamps and lakes.
Identification:
it grows in damp areas
it is erect or spreading, growing up to about 80cm.
the flowers are in erect clusters to 6cm long
there are sheaths at the base of the leaves which surround the stem; the sheaths end in stiff hairs.
Pale Knotweed is a perennial.
Photos. Slender Knotweed. 1, 2: Forest Creek at Castlemaine. 3. Nathalia 3, 4: The sheath at the leaf base ends in erect hairs.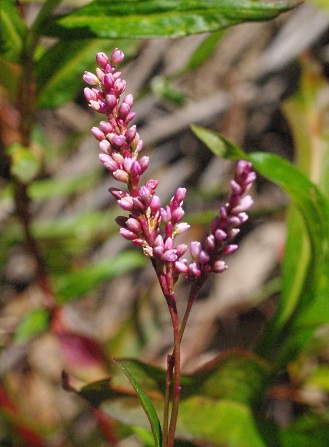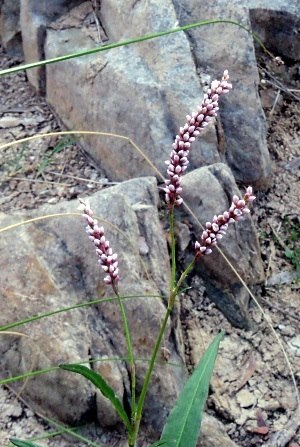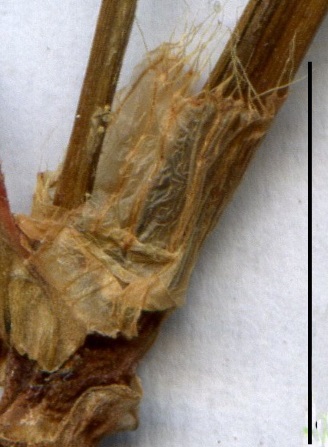 There are three knotweeds common in the district. All grow in wet areas e.g.mud-flats, beside streams etc.
Creeping Knotweed Persicaria prostrata
. Prostrate plant. Sheaths at leaf bases develop a green leaf at the tip.
Slender Knotweed Persicaria decipiens
. Spreading or erect. Sheaths at leaf bases end in stiff hairs.
Pale Knotweed Persicaria lapathifolia
. Erect plant to 1 metre or more. Sheaths at base of leaves summit often torn, not ending in hairs.
---