scale bar = 1cm.
*Parrot's Feather - a weed (*Myriophyllum aquaticum).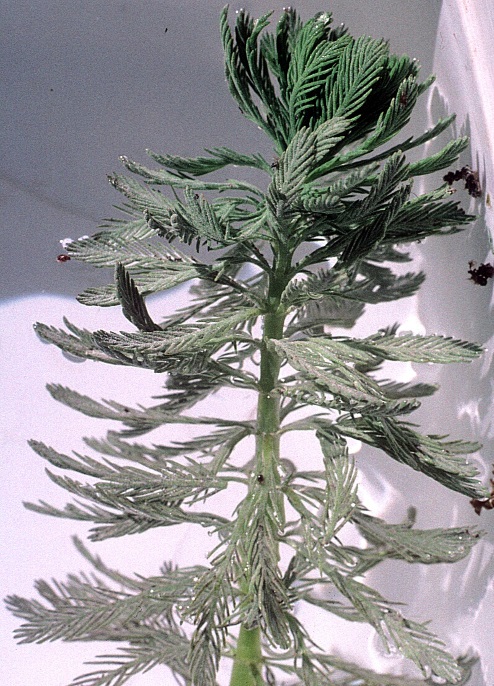 Other names *Myriophyllum brasiliense.
Family: Haloragaceae (Raspwort family).
Native of South America.
Occurrence: Parrot's Feather grows in creeks and shallow water. It has potential to be a serious pest in local waterways.
Identification:
it grows in water with stems up to 2 metres long
leaves are in groups of four to six leaves, growing in a ring around the stems
the leaves growing above the water are divided into comblike teeth
the leaves are green to blue
the flowers are inconspicuous.
Parrot's Feather is an introduced Water Milfoil. It is a troublesome weed of water channels and creeks. It spreads vegetatively from broken stem fragments, so that careless weeding may help spread the plant.
Similar species: There are some common native Water Milfoils. The natives differ from Parrot's Feather in that
the leaves may not grow in rings around the stems, or
only the submerged or emerged leaves are in rings around the stem, or
the leaves are not toothed like a comb, or
the leaves are green or reddish, and not bluish.
Photo 1: Leaves of Parrot's Feather. 2: Emergent leaves. 3: A dense growth of Parrot's Feather. All photos: Campbells Creek.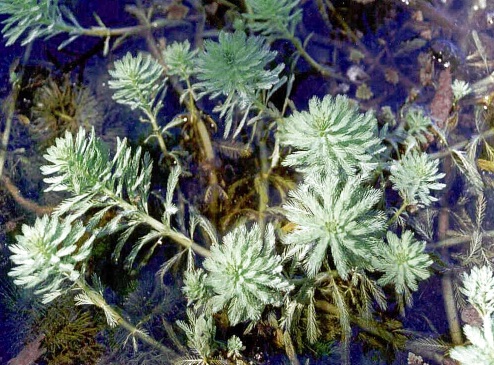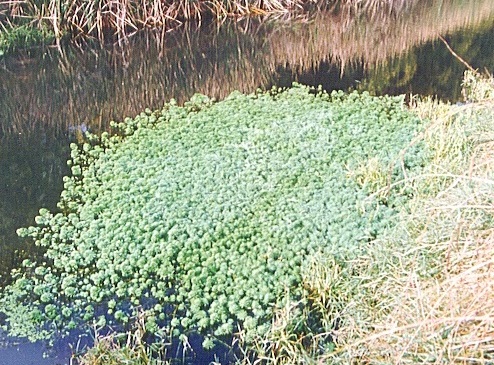 ---