scale bar = 1cm.
Duckweeds - natives (Lemna, Wolffia and Spirodela)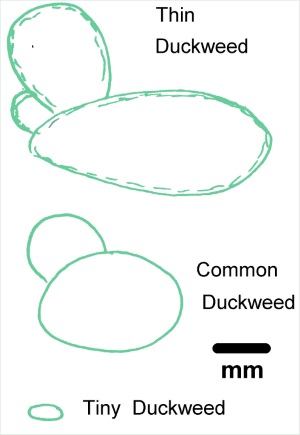 Family: Lemnaceae (Duckweed family).
Natives of Australia. Some are cosmopolitan, and there is one uncommon introduced species (Lemna minor).
Occurrence: Widespread and common on still or slow flowing water.
Identification: Duckweeds are tiny (1 to 10 mm) wide, floating plants Despite the tiny size, duckweeds are flowering plants. They are the smallest of all flowering plants. It is rare to see them in flower, and they usually multiply by budding. The sketches show several still joined together. In good conditions they may completely cover the water.