Plants of the Castlemaine District
Inland Noon-flower (Carpobrotus modestus)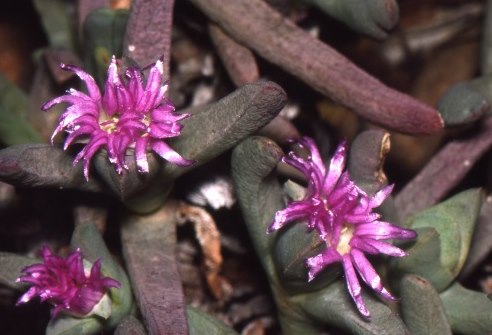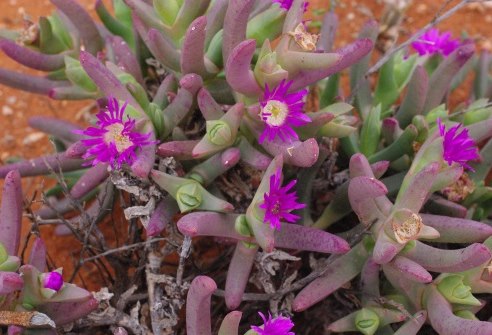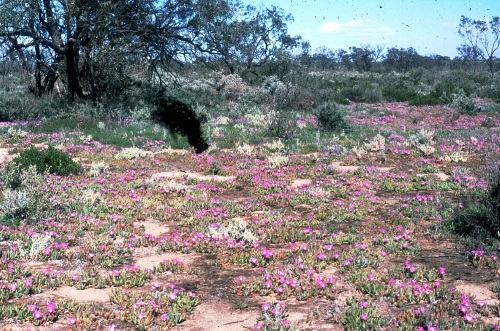 Family: Aizoaceae (Pigface family).
Native of Australia.
Occurrence: Uncommon in Central Victoria. It is a common plant of inland Australia.
Identification:
the leaves are fleshy and triangular in cross section
the leaves are less than seven times as long as wide
the flowers are purplish, with many narrow petals
the leaves are often reddish.
Inland Noon-flower is most common in mallee areas, but extends over much of Victoria
Similar species: The native Coast Pigface is a common plant along the coastline. It does not extend far inland. Introduced Chilean Pigface is a common garden pigface, and occurs as a weed, especially from dumping of garden refuse. It has longer leaves (more than 7 times as long as wide), has more petals, and the leaves are not purplish.
Carpobrotus: meaning bearing edible fruit, from the first described species.
Photos
1: Inland Noon-flower. Dareton.
2: Inland Noon-flower. Muckleford.
3: Inland Noon-flower. Dareton. Photo taken late afternoon. The flowers do not open until about midday.

---