Plants of the Castlemaine District
Introduced Pigface (*Carpobrotus species)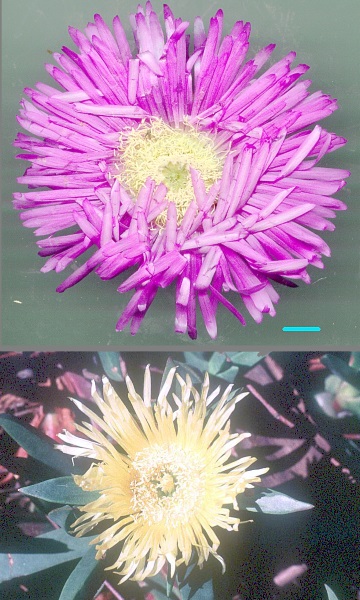 Family: Aizoaceae (Pigface family).
The two common species are:
Chilean Pigface (Carpobrotus aequilaterus). Its flowers are bright pink to purple. The cross-section of the leaves is an equilateral triangle.
Hottentot Fig (Carpobrotus edulis) has yellow flowers fading to pink. The leaves are a flattened triangle in cross section.
Occurrence: Scattered, often along roadsides or from dumped garden refuse.
Identification:
they are succulent prostrate plants
the leaves are green, succulent and triangular in cross-section
the leaves are about a centimetre across
the plants are prostrate
the flowers are usually pink to purple or yellow
the flower appears to have numerous slender petals.
Usually there are hundreds modified stamens that look like petals.
Similar species: A native pigface Noon-flower (Carpobrotus modestus) is a common species in northern Victoria. Its leaves are often tinged purple, the length of the leaves is less than seven times the width, and the flower has fewer "petals". It has pink to purple coloured flowers which change to white at the base. The native Coast Noon-flower is common along coastal sand dunes.
Photo:
1. Chilean Pigface. Castlemaine 2. Hottentot Fig. Tatura.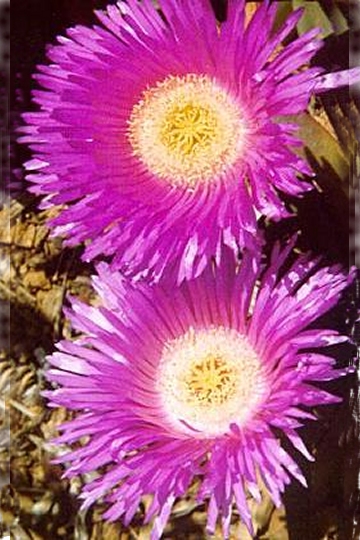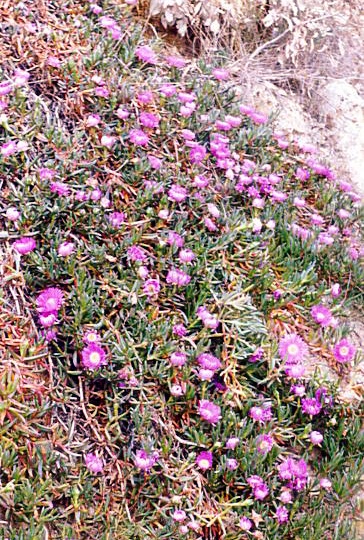 3,4 Chilean Pigface. Castlemaine North.
---