Is it a native?
Rigid Panic - native (Walwhalleya proluta)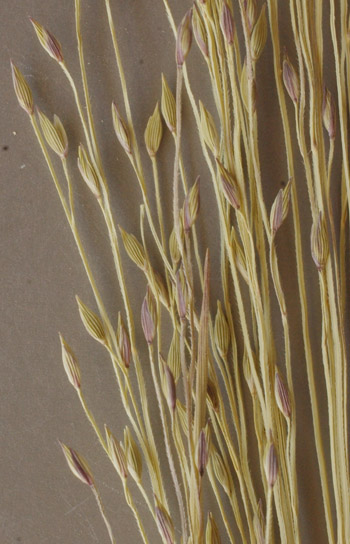 Native. Perennial. C3.
Family. Poaceae (Grass family).
Other names: Whalleya proluta, Homopholis proluta.
Identification
the flower cluster opens to a very open and spreading panicle
the first glume is more than half the length of the spikelet
the spikelet has two florets, the 1st sterile and the 2nd fertile
the veins of the upper glume and the first lemma are thickened and prominent
the leaves are flat.
Rigid Panic resembles a Panicum, in which it was once included. Walwhalleya differs from Panicum in that the 1st glume is 0.6 to subequal to the length of the spiklet.
Walwhalleya: after R.D.B.Whalley, grassland ecologist from University of New England; proluta: wet, washed.
1: The 1st glume is almost as long as the lemma. 2: Flower spray, partly spread. Baringhup.
---