scale bar = 1cm.
Common Groundsel - introduced (*Senecio vulgaris)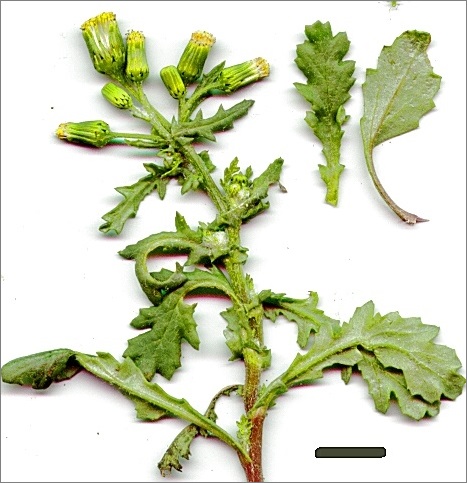 Family: Asteraceae (Daisy family).
Native of Europe.
Occurrence: Scattered weed of disturbed areas and gardens.
Identification:
the plant is cottony on the stems
the leaves are irregularly and deeply lobed
the flowers are cylindrical with yellow petals that protrude beyond the surrounding green bracts
the green bracts surrounding the petals are usually black-tipped
there are usually about 20 bracts
the flower heads are clustered at the ends of the branches.
Common Groundsel is an annual.
Similar species: There are several groundsels, including natives with divided leaves and non-radiating petals. Common Groundsel is a stockier, less tall plant tha Annual Fireweed.
Groundsel: from a corruption of the old Anglo-saxon word groundeswelge meaning ground-swallower, referring to its weedy habit.
Photo tpp right: Common Groundsel. Market St, Kyneton.
2, 3: Specimens in a Castlemaine Garden.
Top R: Common Groundsel. A lawn weed. Hunter Street, Castlemaine.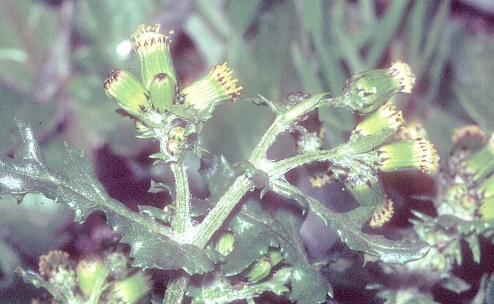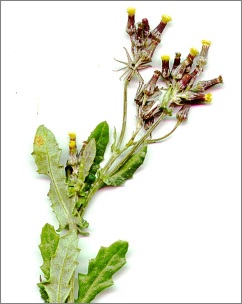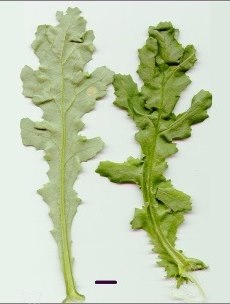 ---