scale bar = 1cm.
Purple-leaf Groundsel - native (Senecio phelleus)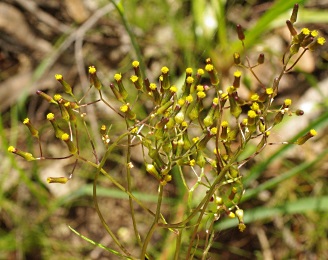 Other names: Slender Groundsel, Senecio tenuiflorus.
Family: Asteraceae (Daisy family).
Native of eastern Australia.
Occurrence: It is a very common bushland plant, and may persist in cleared farmland.
Identification:
the leaves are narrow and green above
the undersurfaces of the leaves are often purple
the flower heads are narrow and in loose terminal clusters
the petals are yellow, and mostly covered by the green bracts at the base of the flower
the plant is slender and usually grows to 30-40 cm high
,li>the flowers have 11-15 green bracts (at the base of the flowers).
Similar species: The native Cotton Fireweed is similar in habit and shape. It differs in that the plant has numerous cottony hairs, so that the plant has a grey appearance.
Photos 1: Part of a flower cluster. Maldon. 2: Flowers from above. Barkly.3: The plant is setting fruit. Barkly.
4: Part of a flower cluster. Castlemaine.
5: The groundsel germinated and flowered profusely after a control burn. Spring Gully Road.
6: The purple undersurface is a characteristic feature.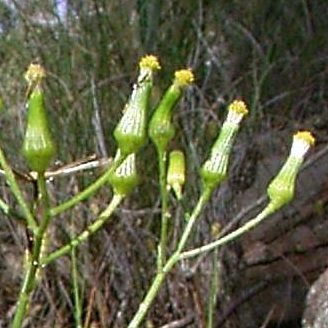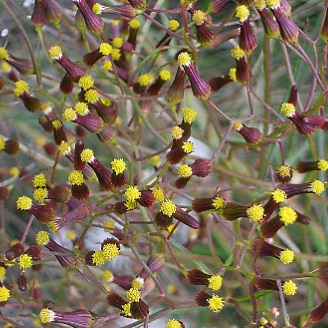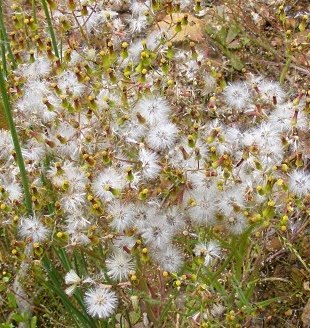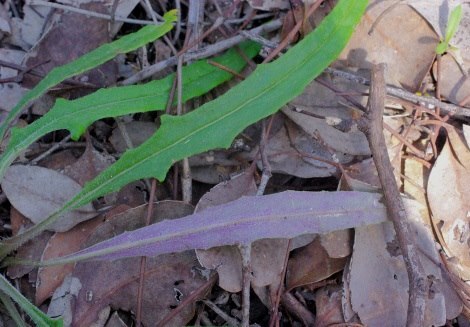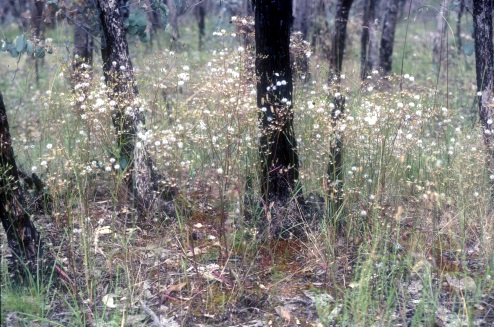 ---