scale bar = 1cm.
Annual Fireweed - native (Senecio glomeratus)

Family: Asteraceae (Daisy family).
Native of southern Australia and New Zealand.
Occurrence: Scattered in bushland areas, and sometimes in cleared areas.
Identification:
it is an annual or short-lived perennial, growing to about half a metre high, or sometimes double this
the flowers have yellow petals which do not radiate from the centre; they protrude slightly past the surrounding green bracts
the leaves are up to 15 cm long, and have prominent jagged teeth
the backs of the leaves, and often other parts of the plant, are covered with cobwebby hairs
the flowers are in branched clusters.
Similar species: There are several native groundsels and fireweeds, and also some introduced species. Some of the introduced species are troublesome weeds. These include Ragwort, and African Daisy, all of which have radiating petals.
Photo 1: Dried specimen. Harcourt North showing typical toothed leaves.
2,3: Flower clusters. Taradale
4: Upper surface of a leaf. Taradale.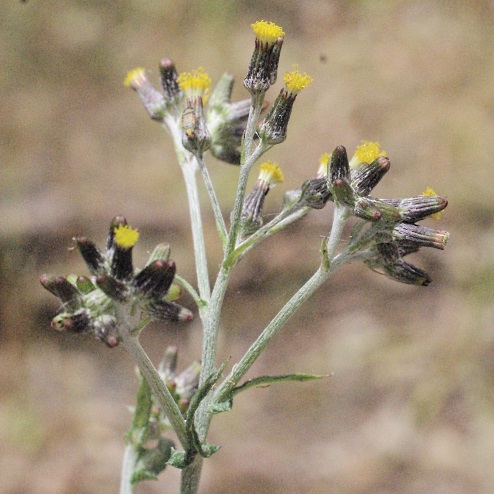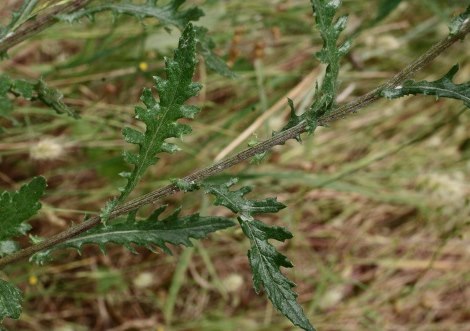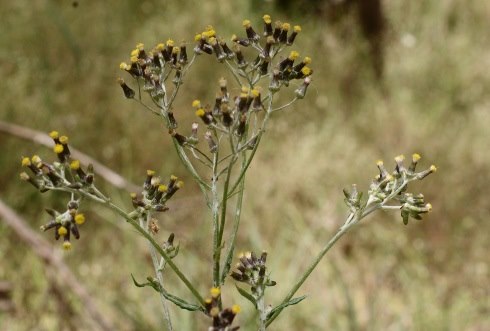 ---