Scale bar is 1cm
Velvet Wallaby-grass - native (Rytidosperma pilosum)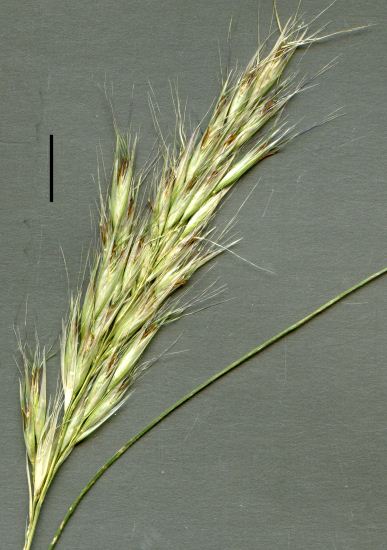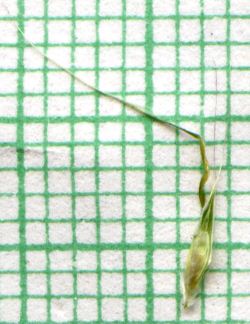 Native. Perennial. C3.
Family. Poaceae (Grass family).
Alternative names: Danthonia pilosa, Austrodanthonia pilosa.
Identification:
the flower cluster is a slender to compact cluster
the glumes are longer than the lemmas
the lemmas are forked into two lobes with an awn rising bewteen the lobes
the base of the awn is stout (c 0.3mm at the base of the awn)
some of the upper hair-tufts on the three rows of hairs on the lemma backs are missing
the leaves are flat or rolled
the ligules are a row of hairs 0.3mm long, longer at the sides.
The palea is about the same length as, or slightly longer than the palea body (to the base of the awn). The flower cluster is usually dense and egg-shaped. The callus (the lemma base) is no longer than 1mm. Common grassland and bushland grass.
The missing hair-tufts and the stout awn base are distinctive.
pilus: a hair; osa abundance.
1: Lemma. 2: Flower cluster. 3: Flower cluster on a long stalk. Irishtown.
---