Scale bar is 1cm
Smooth Wallaby-grass - native (Rytidosperma laeve)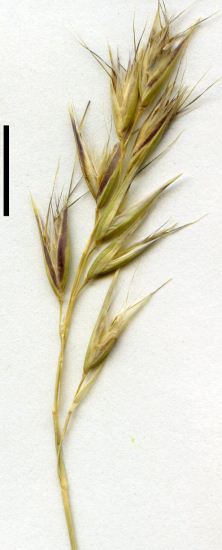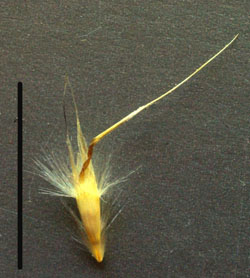 Native. Perennial. C3.
Family. Poaceae (Grass family).
Uncommon.
Alternative names: Danthonia laevis, Austrodanthonia laevis.
Identification:
the flower cluster is a compact spray
the glumes longer than the lemmas
the lemmas are forked into two lobes with an awn rising bewteen the lobes
the lemma has incomplete row of hairs on the back, so that the back of the lemma is smooth and shiny
the leaves are narrow and rolled
the ligules have a row of hairs to 1mm long.
Some of the middle row of hair-tufts are absent. As result the smooth and shining back of the lemma is exposed. The glumes often have purple markings.
laeve: smooth, referring to the smooth lemmas.
1: Lemma. Mt Alexander. 2: Flower cluster (a panicle). The glumes have purple markings.
---