Scale bar is 1cm
Kneed Wallaby-grass - native (Rytidosperma geniculatum)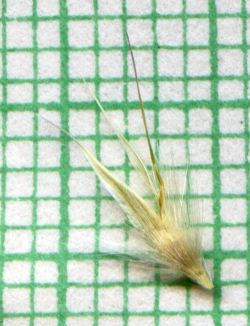 Native. Perennial. C3.
Family. Poaceae (Grass family).
Alternative names: Danthonia geniculata, Austrodanthonia geniculata.
Identification:
the flowers form a compact cluster
the glumes are longer than the lemmas
the lemmas are forked into two lobes with an awn rising bewteen the lobes
the lemma back is uniformly covered with hairs
the leaves are narrow and cylindrical
the ligules have a row of hairs 1mm long.
It is a slender grass, growing usually to 40-50cm. The stalk is often bent, hence "kneed".
Its lemmas resemble those of Red-anther Wallaby-grass. Kneed Wallaby-grass is a smaller, much more slender plant, with a more contracted flower cluster, and its anthers are not a showy red-orange.
The slender habit, the lemmas with uniformly scattered hairs, and the often bent stalk are distinctive.
genus: knee, ulus diminutive; ata: possessing, referring to the bent stalk.
1: The lemma body has a dense covering of hairs. Castlemaine. 2: Flower cluster is compact.
---