Scale bar is 1cm
Copper-awned Wallaby-grass - native (Rytidosperma fulvum)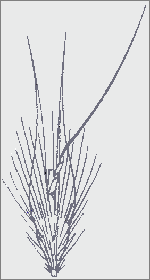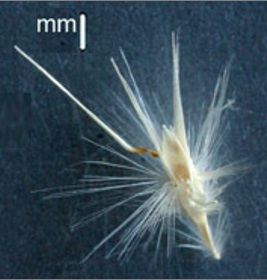 Native. Perennial. C3.
Family. Poaceae (Grass family).
Copper-awned Wallaby-grass is a common in forests and grasslands.
Alternative names: Danthonia linkii var fulva, Austrodanthonia fulva.
Identification:
the flower cluster is a compact spray
the glumes are longer than the lemmas
the lemmas are forked into two lobes with an awn rising bewteen the lobes
the lemma has three complete rows of hairs on the back, with scattered hairs between the rows
the leaves are flat or rolled
the ligules have a row of hairs 0.8-1.2mm long.
It is sometimes late flowering e.g. early autumn. The flower cluster is long (6-12cm) and generally dense. The lemmas are distinctive; they have three rows of hair tufts, and there are scattered hairs on the back of the lemma. The awn is much twisted at the base and copper coloured.
Rytidosperma: with wrinkled seeds; fulvus: reddish brown, tawny, referring to the awn-base.
Photo 1: The base of the awn is copper-coloured. View from underneath, showing the palea. Typical flower cluster is elongated. Eureka Diggings. 2: Lemma with scattered hairs bewteen the upper rows of hairs. 3: Typical narrow cluster.
---