Scale bar is 1cm
Hill Wallaby-grass - native - (Rytidosperma erianthum)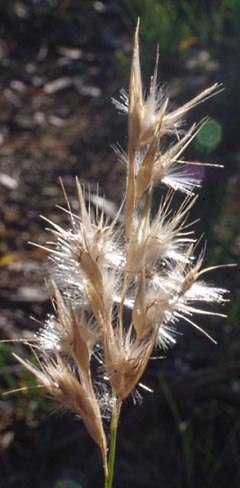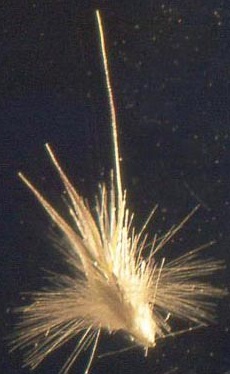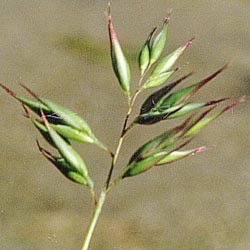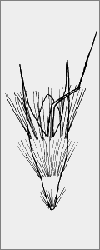 Native. Perennial. C3.
Hill Wallaby-grass is a widespread and common grass. It grows in grasslands and forests.
Family. Poaceae (Grass family).
Alternative names: Danthonia eriantha, Austrodanthonia eriantha.
Identification:
the flower cluster is not widely spreading, and typically is few flowered
the glumes are longer than the lemmas
the lemmas are forked into two lobes, with an awn rising between the lobes
the lemma is triangular in shape, with three complete rows of hairs on the back; the lemma between the hairs is shiny
the leaves are usually rolled
the ligules are rows of hairs 0.5-0.7mm long; the hairs longer at the edges.
The common name is not very suitable - it often grows in flat places. The length of the lemma (from the bottom tip to the base of the central awn) is 3.5mm to 4mm. It is a fairly short grass (typically 20-30cm high) and few flowered. The buds are green with purple tonings (as in most wallaby grasses).
The triangular shape of the lemma is distinctive.
Lobed Wallaby-grass lemmas are also broadly triangular. It differs in that the sides of the lemmas have a more or less triangular lobe.
erion: wool; anthos: flower, referring to the woolly lemmas.
1: Lemma showing the rows of hair tufts. The palea is behind the central awn.
2: The flowers are shades of green and purple, in small clusters. 3: Bristly flowers, typical of wallaby grasses. 4, 5: The ripe flowers.
---