Scale bar is 1cm
Short Wallaby-grass - native (Rytidosperma carphoides)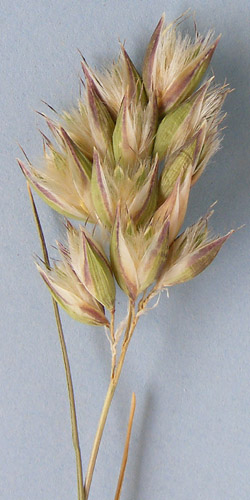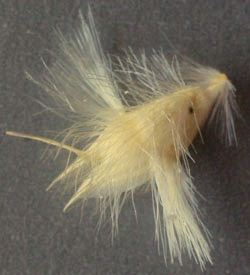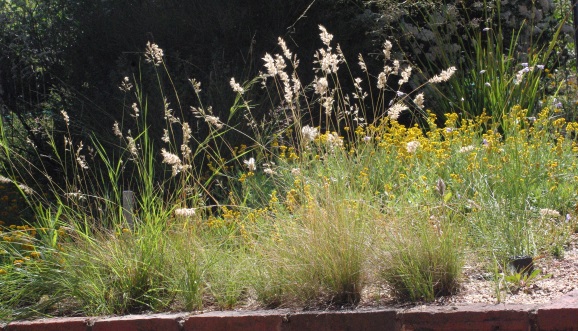 Native. Perennial. C3.
Family. Poaceae (Grass family).
Short Wallaby-grass is a uncommon, but may be locally abundant.
Alternative names: Danthonia carphoides, Austrodanthonia carphoides.
Identification:
the flower cluster is compact
the glumes are longer than the lemmas
the lemmas are forked into two lobes with an awn rising between the lobes
the bristle on the side lobes of the lemmas are very short
the leaves are finely rolled
the ligules are a row of hairs 0.5mm long.
It is a short grass (usually 30cm or less high), usually in native grasslands.
Short Wallaby-grass is a distinctive grass: the side lobes of the lemmas taper into a very short point (c1mm or less), the central awn only just exceeds the lateral lobes, and the flower clusters are small and more or less egg-shaped.
carphoides: carpha (a kind of sedge); -oides (like).
Bottom left: Short Wallaby-grass as a garden plant, with Everlastings (Chrysocephalum species). Centre: The lemma has a much shorter awn and much shorter bristles on the lemma lobes than the other wallaby grasses of the district. Right: The flower cluster is compact.
---