Scale bar is 1cm
Common Wallaby-grass - native (Rytidosperma caespitosum)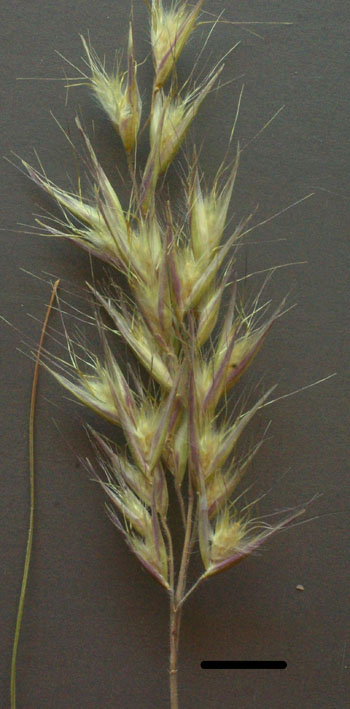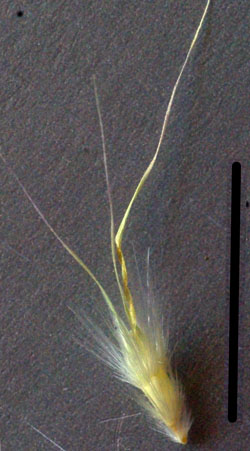 Native. Perennial. C3.
Family. Poaceae (Grass family).
Moderately common.
Alternative names: Danthonia caespitosa, Austrodanthonia caespitosa.
Identification:
Common Wallaby-grass is a tufted grass; there is usually a moderately large tuft of basal leaves
the flower cluster is not widely spreading.
the glumes are longer than the lemmas
the lemmas are forked into two lobes with an awn rising bewteen the lobes
there are three complete rows of hairs on the back of the lemmas
the leaves are flat or rolled
the ligules are a row of hairs 1-2mm long, with longer hairs at the side.
It is taller than many of the wallaby grasses, growing to well over 50cm. The lemma is long (3.5-5.5mm) and squarish. The side lobes taper into a long bristle.
The tussocky growth, the height, the long squarish lemmas with complete rows of hairs on the lemma are characteristic.
caespitosum: tufted, referring to the leaves.
1: The lemmas are large (over 4mm long) and more or less rectangular in outline. Castlemaine. 2: The flower clusters are larger than many other wallaby grasses.
---