Scale bar is 1cm
Lobed Wallaby-grass - native (Rytidosperma auriculatum)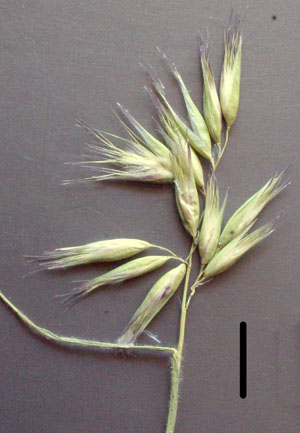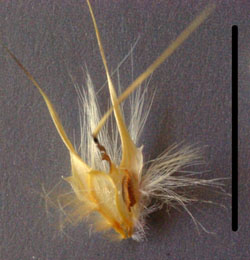 Native. Perennial. C3.
Family. Poaceae (Grass family).
Alternative names: Danthonia auriculata, Austrodanthonia auriculata.
Identification:
the flowers form a compact cluster
it is usually few flowered
the glumes are longer than the lemmas
the lemmas are forked into two lobes, with an awn rising between the lobes
the lemma widens at the side to form a triangular wing
the lemma has three rows of hairs on the back of the lemma
the leaves are flat or rolled
the ligules are a row of hairs 0.5mm long.
Lobed Wallaby-grass is not often recorded.
It resembles Hill Wallaby-grass, except for the lobes on the lemmas, and close examination is needed to separate the two grasses.
auriculatum: referring to the auricle (ear) at the sides of the lemma.
1: Lemma with side lobes visible. Underneath view, showing the palea 2: Branched flower cluster (a panicle). 3: A spikelet with the glumes removed.
---