scale bar = 1cm.
Self-heal - introduced (*Prunella vulgaris)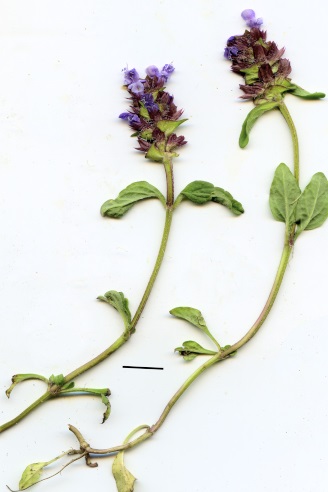 Family: Lamiaceae (Mint family).
Native of the northern hemisphere.
Occurrence: Self-heal is a weed of damp places e.g. well-watered lawns and beside streams. In wetter climates it is more widely distributed.
Identification:
Self-heal has short square-sectioned stems
the flowers are small and purple in colour (or occasionally much paler), and are in dense cylindrical clusters at the end of the stems
the leaves are shortly stalked and in pairs.
Self-heal is sometimes thought to be native to Australia as well as to the northern hemisphere. Even if this is so, in the Central Goldfields Self-heal grows in weedy or greatly modified vegetation, and is unlikely to be native to the area. Self-heal has been used as a medicinal plant in Europe and Asia.
Photos all: Self Heal. The leaves are in pairs, and the usually purple flowers are in a dense cylindrical cluster.
1, 2: From a Hargraves St. Castlemaine roadside drain. 3: From Kangaroo Creek. 4: Castlemaine Botanic Gardens, east side.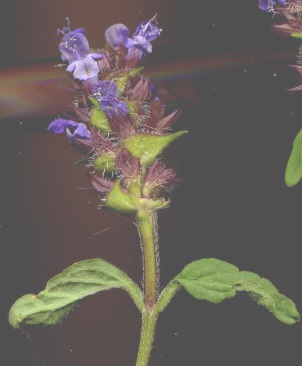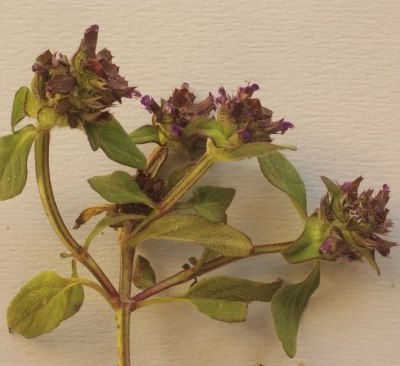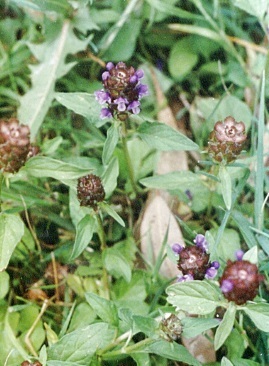 ---