Scale bar is 1cm
Annual Beard-grass - introduced (*Polypogon monspieliensis)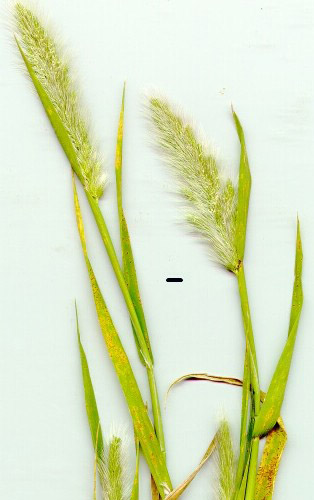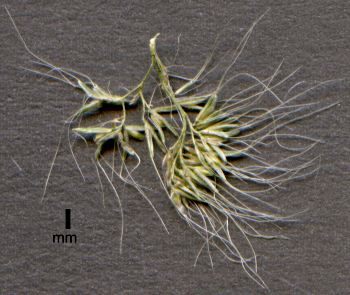 Native to Asia, Africa and Europe. Annual. C3.
Occurrence. It is a plant of wet areas e.g. drainage lines beside roads, creek banks, reservoir edges etc.
Identification:
the flower cluster is dense and spike-like
the glumes are long awned and the glume bodies are longer than the lemma bodies
the lemmas are single and are shortly awned
the leaves are flat or loosely folded
the ligule is membranous and 2-12mm long, shredded at the apex.
A distinctive grass: the long-awned glumes give this grass a bearded appearance. The cluster has a soft grey-green colour.
The flowers form a compact more or less cylindrical cluster (a panicle).
Polypogon: many beards, referring to the numerous awned spikelets; monspeliensis: from the Roman name for Montpellier.
1,2,3: Flower clusters. Awned glumes are uncommon, and they give this grass its bearded appearance. Forest Creek. 4: Portion of the flower cluster. Awned glumes.
---