Scale bar is 1cm
Grey Tussock-grass - native (Poa sieberiana)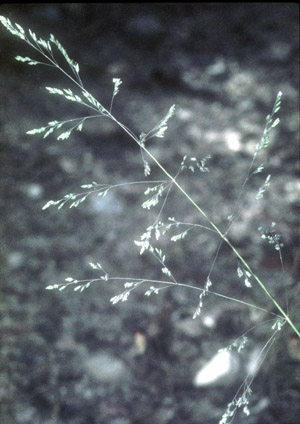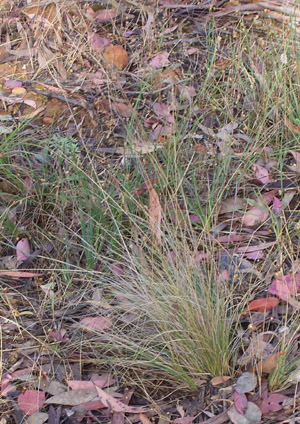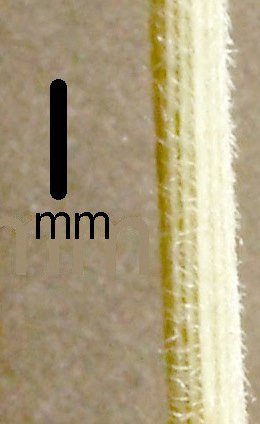 Native. Perennial. C3.
Family. Poaceae (Grass family).
It is widespread and very common in forest areas.
Identification:
the leaves form tussocks, typically less than 20cm across
the flower cluster is an open spray
the glumes are about as long as the lemmas
the spikelets have 2-7 unawned lemmas which are hairy on the bottom part
the leaves are flat or sometimes folded
the ligule is membranous and 1-5mm long.
Red-anther Wallaby-grass (Rytidosperma pallidum) is also a very common tussock grass in local forests. It is larger, with tussocks often 50cm or more across. It also has tall flower stalks (to a metre or more) and larger flowers, and the lemmas are awned. When not in flower, they can be distinguished by the ligules; firm, membranous and c0.5mm long for Grey Tussock-grass, and a dense line of hairs for Red-anther Wallaby Grass.
A variety of Grey Tussock-grass (Poa sieberiana var hirtella ) has hairy leaves. The hairs are short (to 0.5mm) and stiff and are at an angle to the leaf. Soft Tussock-grass (P. morrisii ) is also hairy, with soft hairs to about a millimtetre long.
Poa: grass (Greek); sieberiana: after F.W. Sieber, an Austrian botanist (1789-1844). He visited N.S.W. in 1823.
1: The flower clusters are open, with small spikelets. 2: Tussock typical of those in the dry forests. The leaves are wiry. Chewton. 3. Variety hirtella has short (<0.5mm) inclined hairs. Castlemaine. 4. Spikelets.
---