Scale bar is 1cm
Soft Tussock-grass - native (Poa morrisii)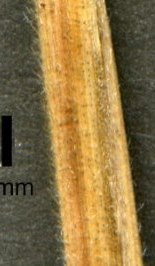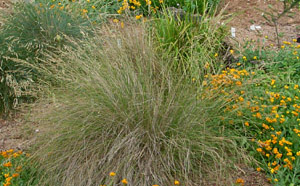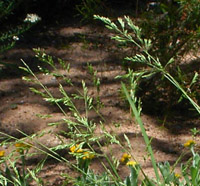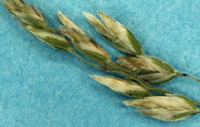 Native.&nbspPerennial. C3.
Family. Poaceae (Grass family).
Identification:
the flowers form a sparse spray
the glumes are about as long as the lemmas
the spikelets have 3-8 unawned lemmas which are hairy on bottom part
the leaves are flat or sometimes folded and softly hairy
the ligule is membranous and 1-5mm long.
Soft Tussock-grass resembles Grey Tussock-grass, except that the stalks and leaves are softly hairy with spreading hairs to about 1mm long. The leaves are often greyish. The glumes are also often shortly hairy. A variety of Grey Tussock-grass also has hairy leaves; these hairs are short and stiff, less than 0.5mm and usually inclined to the leaf surface.
Poa: grass (Greek); morrisii: in honour of Patrick Francis Morris, 1896-1974, Australian botanist.
1: Spikelets. Castlemaine. 2,3: Garden specimens. 4: A softly hairy leaf. The leaf blade is rolled into a cylinder.
---