scale bar = 1cm.
Greater Plantain - introduced (*Plantago major)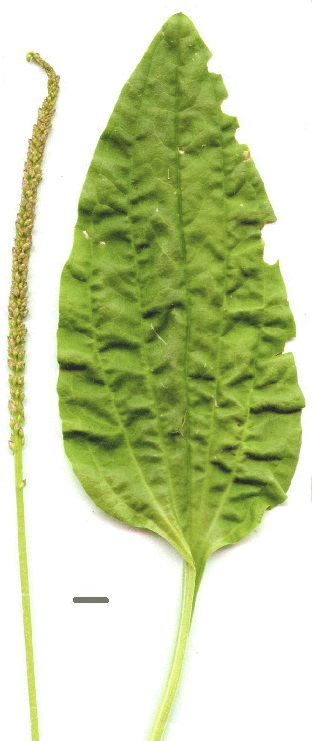 Family: Plantaginaceae (Plantain family).
Native of Europe and Asia.
Occurrence: A weed of streamsides and damp areas.
Identification:
the leaves are in a basal rosette
the leaves are broadly ovate and narrow abruptly to the base
the leaves are usually not toothed, and have conspicuous longitudinal veins
the flowers are in a dense, long, narrow cylindrical clusters.
The leaves are much larger than than other Ribworts.
In higher rainfall areas, Greater Plantain is a weed of cultivated land, roadsides and waste places. In the Central Goldfields it is rarely found away from streams or other damp areas. It is a perennial.
Similar species: Both native and introduced plantains are common in the Central Goldfields area. Greater Plantain can be distinguished by the very narrow flower clusters, and the large, abruptly narrowed and untoothed leaves.
Photo 1, 2: The long, narrow cylindrical flower clusters, and the multi-veined, abruptly narrowed leaves are typical of Greater Plantain. Castlemaine Botanic Gardens, growing at the edge of Barkers Creek.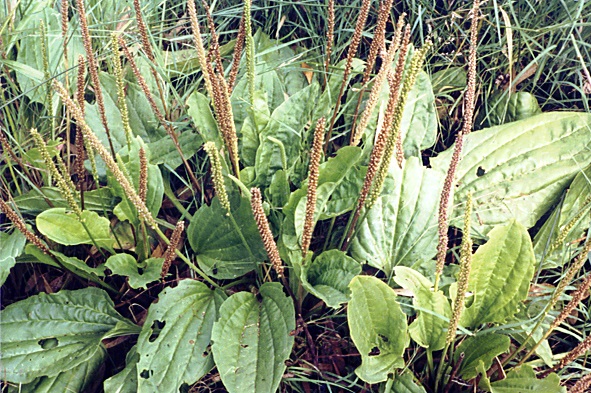 ---