scale bar = 1cm.
Narrow-leaf Plantain - native (Plantago gaudichaudii)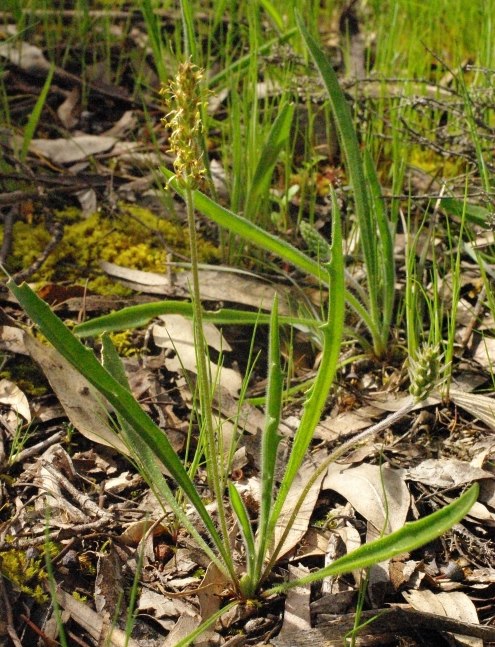 Family: Plantaginaceae (Plantain family).
Native of southern Australia.
Occurrence: Rarely recorded, and perhaps overlooked because of its resemblance to Variable Plantain.
Identification:
it has narrow slightly toothed leaves, which are at least 15 times longer than wide
the leaves may be hairless; if hairs are present some of the hairs are longer than 1mm
the flowers are not densely packed.
It differs from Variable Plantain (P. varia) in that Variable Plantain has broader leaves.
Name: gaudichaudii: Charles Gaudichaud-Beaupre, botanist on Freycinet's voyage 1817-20.
Variable Plantain. Leaves 5-10 times longer than wide. Leaf hairs are about 1mm long.
Narrow-leaf Plantain. Leaves 15 times or more longer than wide. Some leaf hairs greater than 1mm long.
Image: Narrow-leaf Plantain. Castlemaine Botanic Gardens.
---