Scale bar = 1cm
Common Reed - native (Phragmites australis)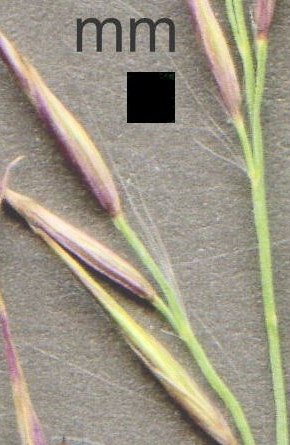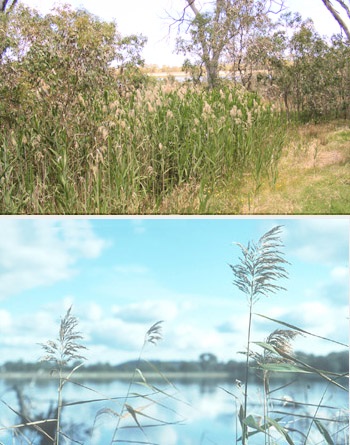 Cosmopolitan. Perennial. C3.
Family. Poaceae (Grass family).
Identification:
it is a tall grass growing to head height or more, in running or standing water.
the flowers are in a feathery cluster.
the glumes are shorter than the lemmas
there are up to 10 lemmas, the lower one is sterile
the lemmas have long awns
the leaves are flat
the ligule is a 1-10mm long fringed membrane.
It is often associated with with Cumbungi (Bulrush) (Typha species).
Phragma: Hedge (Greek), it often grows densely; australis: southern.
The feathery flowers, the size, and the habitat are distinctive.
Photos 1, 2 (left): Common Reed at Harcourt North. 3: Spikelets with hair tufts at the base. 4: Part of the cluster showing flower branches. Forest Creek. 5: Recently opened flower cluster.
More photos
---