Is it a native?
African Feather-grass - introduced (*Pennisetum macrourum)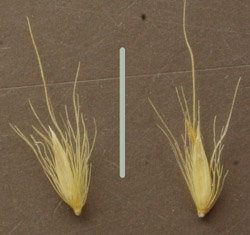 Native to southern Africa. Perennial. C4.
Family. Poaceae (Grass family).
Identification:
the flower cluster is a dense and spike-like, and up to 30cm long
the first glume is tiny or absent
the 2nd glume is half the spikelet length
the first lemma is sterile, the second is fertile
numerous bristles rise from the flower stalk, just below the lemma; one bristle is stouter and longer than the others
the leaves are flat or folded and the ligule is a row of hairs 1-2mm long.
It is a tall grass to 1.5m or more. The bristles at the bases of the spikelets are rough-textured (scabrous) but not feathery. The bristles fall off with the spikelets when mature.
It is a noxious weed and is listed as Regionally Prohibited in central Victoria.
In the Flora of Victoria, 1994, the Victorian distribution of this grass is given as restricted to the Casterton region.
penna: feather; seta: a bristle, referring to the feathery bristles of some species; macrourum: with a long tail-like appendage, referring to the thicker bristle.
1: The bristles fall with the spikelets. One of the bristles is longer and stouter than the others. Yapeen. 2: The flower cluster. Some of the spikelets have fallen.
---