Scale bar = 1cm.
Water Couch - introduced (*Paspalum distichum)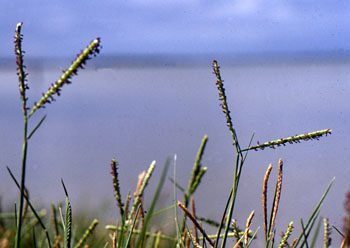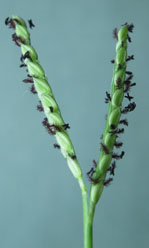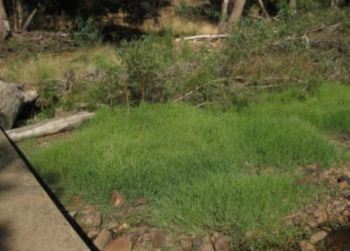 Native to many tropical and sub-tropical countries. Believed to be introduced in Australia. Perennial. C4.
Family. Poaceae (Grass family).
The flowers are on two erect arms from the top of the stalk
Identification:
the 1st glume is absent or very short
the 2nd glume is about equal to lemma length
the spikelets have a fertile and a sterile lemma
the leaves are flat or folded
the ligule is 1mm long, and truncated (squared off).
It grows in wet places e.g. drainage channels, swamps etc. The damp habitat, the (usually) two terminal arms, the close-packed spikelets, and the black stigmas and anthers are distinctive.
It is an environmental weed.
distichus: having two rows.
Photos 1: Flowers with anthers. Cairn Curran. 2: Water Couch. Gippsland Lakes. 3: Water Couch growing in the Loddon River bed, Vaughan. 4, 5: Water Couch.
---