scale bar = 1cm.
Soursob - introduced (*Oxalis pes-caprae )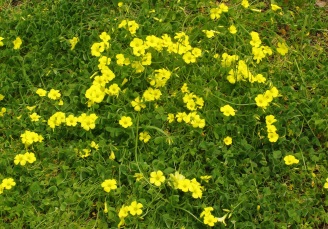 Family: Oxalidaceae (Oxalis family).
Native of South Africa.
Occurrence: Soursob is a widespread and common weed of gardens, farmland, roadsides and bushland.
Identification:
the leaves are clover-like on long stalks
the leaves grow from the base of the plant
the flowers are bright yellow and have fives petals
the underground stem produces many small bulbs.
Soursob is a noxious weed and is listed as Regionally Restricted in central Victoria.
It is a major weed of gardens and bushland, and is very difficult to eradicate. Each of the small bulbs can produce a new plant. In summer it dies down and may not be noticed.
Similar species: Soursob can be distinguished from native oxalis by its bright yellow flowers, the absence of an above-ground stem, the bright green leaves, and the numerous small bulbs. Native oxalis species usually have a duller leaves and flowers, are smaller plants, and have above-ground stems.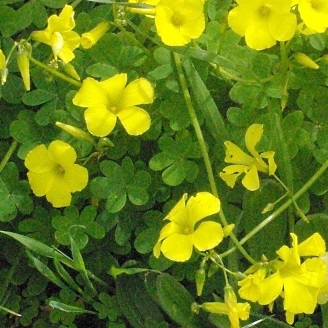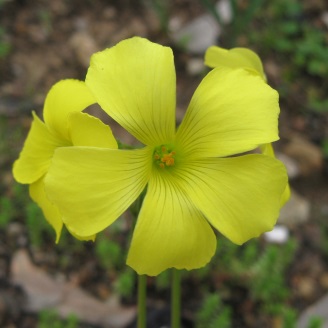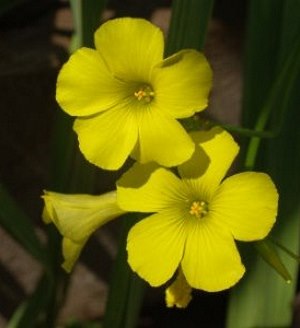 Photos: 1 (above): Flowers. 2, 3: Flowers. 4: The leaves are trifoliate, with the leaflets deeply divided.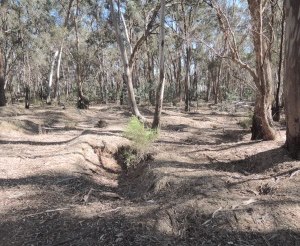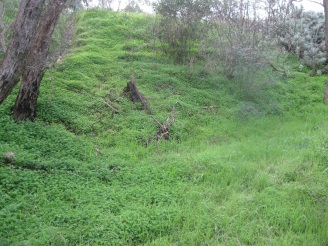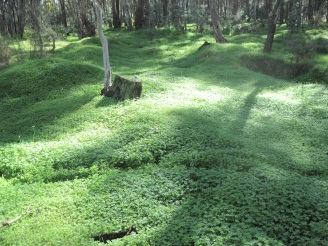 5. Dense cover of Soursob in spring. Wimble St, Castlemaine. 6: Soursob carpets the ground in spring. Pullens Rd, Muckleford Forest. 7: The same area in summer.
---