Plants of the Castlemaine District
Horned Orchid - native (Orthoceras strictum)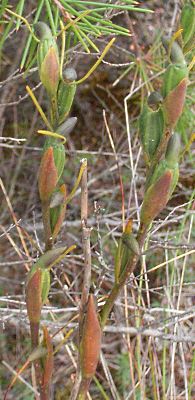 Family: Orchidaceae (Orchid family).
Native of Eastern Australia.
It is rare. There are early records for Smiths Reef and the adjacent railway line. Subsequent searches have failed to find this species.
Identification:
flowers are brownish and held close to the stalk
the lateral sepals are long and slender, and held erect (and hence Horned Orchid).
Photos: 1, 2: Mt Beckwith.
3: Princetown.
---