scale bar = 1cm.
Watercress - introduced (*Nasturtium officinale)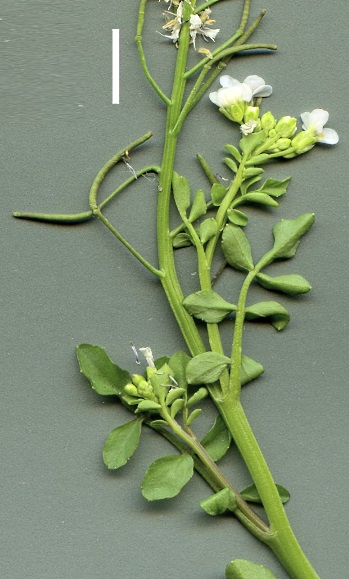 Other names: Formerly known as Rorippa nasturtium-aquaticum.
Family: Brassicaceae (Cabbage family).
Native of Europe.
Occurrence: A weed of aquatic or semi-aquatic areas, often growing near or in slow-moving water. It is an environmental weed.
Identification:
it grows in damp spots
the small white flowers have four petals
the leaves have a terminal lobe and several pairs of opposite leaflets
it has hollow, angular stem
each half of the fruit has two rows of seeds.
Watercress is cultivated as a salad vegetable. Care should be taken in eating wild plants, as they may accumulate toxins from polluted streams.
Similar species: One-row Watercress (
*Nasturtium microphyllum
) is similar. It has one row of seeds in each half of the fruit, and has more depressions in the face of the fruit (100 to 150, compared with Watercress, which has 25-50 depressions).
Photos: Flowering branch. Sailors Creek, Daylesford.
2: In flower. Glenluce Springs. Unlike many of the larger members of the cabbage family, this species has white flowers.
3: Watercress growing in the Barkers Creek, Botanic Gardens, just below the waterfall.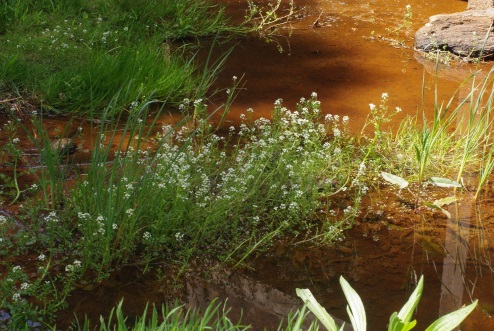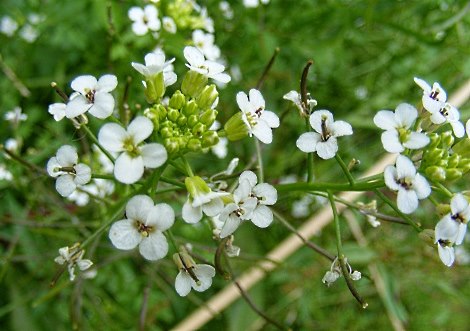 ---