Is it a native?
Chilean Needlegrass - introduced (*Nassella neesiana)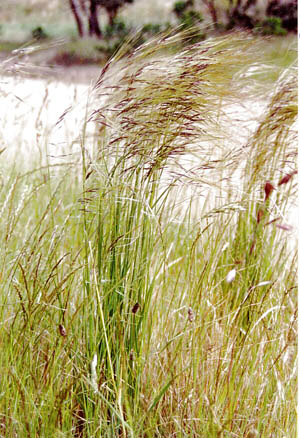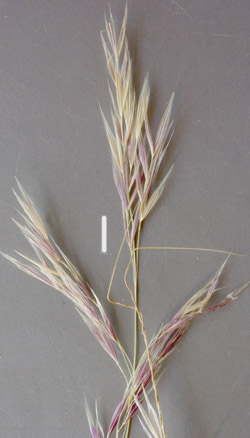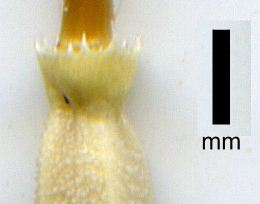 Native to South America. Perennial. C3.
Family. Poaceae (Grass family).
Other names: Stipa neesiana.
Identification:
it is a tall grass to 1 metre
the flowers are in a contracted sparse cluster
the glumes are longer than the lemma bodies
each spikelet has a single long-awned lemma
the crown at the awn base has small teeth on the rim so that it has the appearance of a queen's crown
the ligules are membranous and 0.4-0.7 mm long.
The "queen's crown" at the awn base is distinctive.
A weed of pasture that can crowd out more desirable grasses.
It is a noxious weed and listed as Regionally Restricted in central Victoria. It is also an environmental weed.
Nassella: from nassa a narrow-necked wicker basket; ella: diminutive, referring to the shape of the floret of some species; neesiana in honour of C. G. D. Nees von Esenbeck, 1766-1858, a German botanist.
1: Crown at the lemma summit. 2, 3: Chilean Needlegrass. Barfold.
---