scale bar = 1cm.
Common Bow-flower - a native (Millotia muelleri)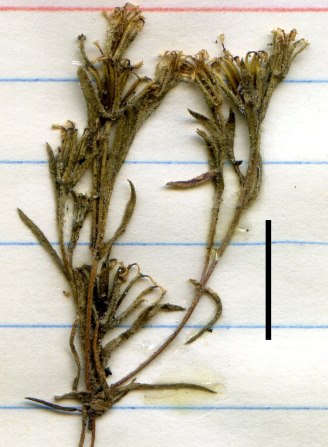 Other names: Formerly Toxanthes muelleri.
Family: Asteraceae (Daisy Family).
Native.
Occurrence: Uncommon.
Identification:
a small plant to a few centimetres high
it is hairy with glandular hairs (i.e. the hairs are tipped with a sticky ball)
the florets are mostly hidden by the bracts.
Common Bow-flower differs from Soft Millotia in that the seeds of Bow-flowers seeds do not have a tuft of hairs.
Name: muelleri: Ferdinand von Mueller was a Victorian Government Botanist.
Image: Dried specimen from Archdale. Most local records are from Mt Alexander.
---