Plants of the Castlemaine District
Lanky Buttons - native (Leptorhynchos elongatus)
Family: Asteraceae (Daisy family).
Native.
Occurrence: Rare.
Identification:
it grows to 15-50cm high
it is a yellow button daisy, with the single flower in a terminal head
the base of the flower has several rows of papery floral leaves (bracts).
VROTS: endangered.
It resembles a tall Billy Button, with which it often grows. Billy Buttons, as they mature, take on a spherical shape. Lanky Buttons never take on a spherical shape so that the bracts at the base of Lanky Buttons flowers are always visible. A more fundamental difference (not easily seen) is that Billy Buttons flowers are a cluster of smaller clusters. Lanky Buttons is a simple cluster of tube florets.
Lanky Buttons is a rare or threatened species. It has been recorded from near the railway line at Chewton, in Kalimna (where very restricted) and along Railway Track in Smiths Reef.
According to the Flora of Victoria, they grow to 40cm high. I have seen them higher than this, to 50cm.
Photo 1: Flower. Kalimna. 2-4: Smiths Reef. The flowers are not yet fully opened.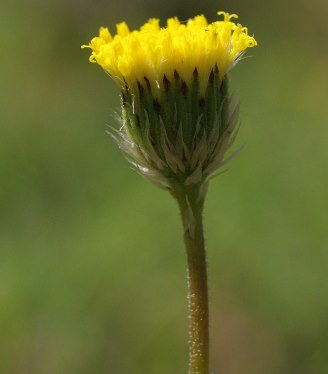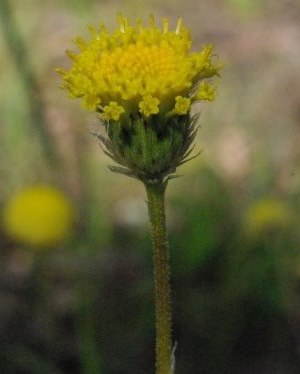 ---