scale bar = 1cm.
Coarse Bottle-daisy - a native (Lagenophora huegelii)


Family: Asteraceae (Daisy family).
Native of SE Australia, mostly north of the Divide.
Occurrence: A common bushland and woodland plant.
Identification:
it has a rosette of toothed leaves with six to nine blunt teeth
the leaves and flower stalk are hairy
the seeds are abruptly contracted at the tip into a beak, and resemble an old-fashioned bottle
the small daisy flowers have inconspicuous white, pink or purplish petals
there are about six small leaves along the flower stalk.
It is sometimes spelled lagenifera.
Similar species: Blue Bottle-daisy is a more common plant south of the Divide. Its leaves are more shallowly toothed and the leaves along the flower stalk are smaller. Solenogyne is a common native bushland plant. It has much stouter flower stalks and the seeds are not bottle-shaped.
Photo 1R: Leaf and flower. 2: Seed head showing the bottle-shaped seeds.
3,4: The flowers are incospicuous, and can easily be overlooked. Maldon Historic Area.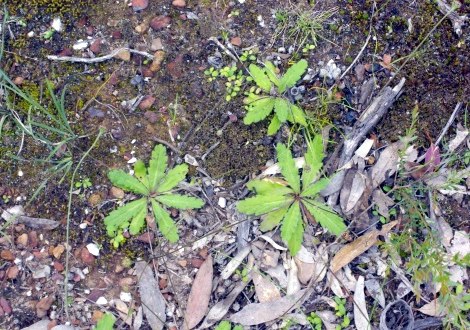 ---