Joint-leaf Rush - native (Juncus holoschoenus)
Family: Juncaceae (Rush family).
Occurrence: It is a common rush, growing at the edge of dams, in swamps and drains.
Identification:
Joint-leaf Rush has hollow, onion-like leaves. The leaves have internal transverse partitions, giving the leaves a knobbed appearance
the branched flower sprays have clusters of brown flowers
the flower stalks are more or less erect
the flower clusters are a centimetre or more wide
the seed cases are about as long as, or longer than the petals.
The upright habit and the relatively large flower clusters separate this rush from the other joint-leaf rushes.
Photos 1: Joint-leaf Rush. Smiths Reef Dam. 2: Young flower cluster is still green-coloured. Chewton.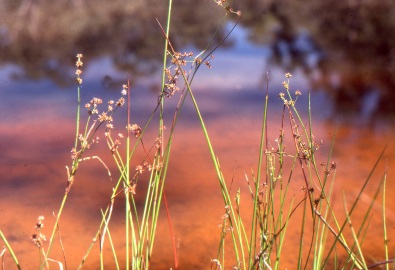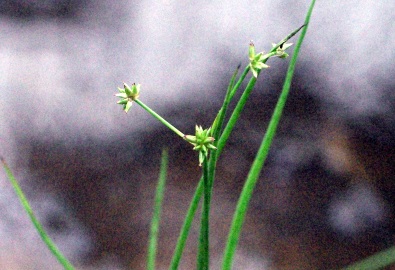 ---