Scale bar is 1cm
Sea Barley-grass - introduced (*Hordeum marinum)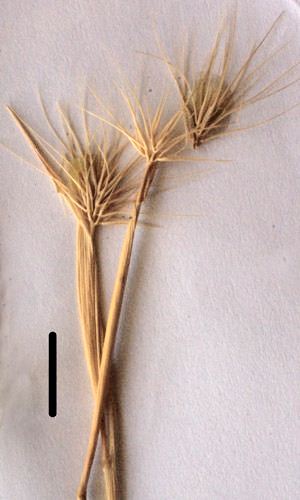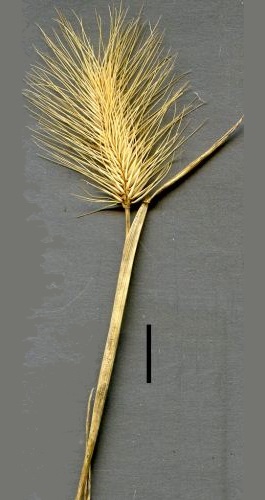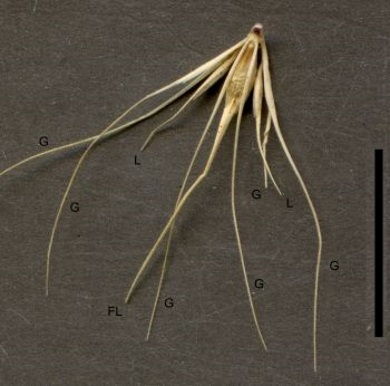 Native to Europe. Annual. C3.
Family. Poaceae (Grass family).
Occurrence: Moderately common in suitable habtat e.g. near swamps.
Other names: *Critesion marinum
Sea Barley Grass can be recognised:
the glumes of the central spikelet are narrow near the base, and taper to a point
the inner glumes of the outer spikelets are broadened at the base, the outer glumes are narrow
the glumes are rough to touch but not hairy
the lower leaf sheaths are hairless or with hairs less than 0.5mm
The flower clusters are usually shorter than those of other barley grasses
it can grow in saline soils.
The flower cluster is usually shorter than those of Barley Grass. The flower parts are not hairy. A salt-tolerant grass.
It is an environmental weed.
1: The spikelets are shed in threes. The inner fertile spikelet has narrow glumes. The outer glumes of the infertile outer spikelets are narrow, and the inner glumes are widened at the base. Part of one of the outer glumes has been broken off. Tarrengower School Road.
2. The flower clusters are usually shorter than those of Barley-grass. Forest Creek. 3: The upper spikelets have been shed.
marinum: growing in or near the sea.
---