scale bar = 1cm.
Jersey Cudweed - cosmopolitan (Laphangium luteoalbum)

Other names: Pseudognaphalium luteoalbum.
Family: Asteraceae (Daisy family).
Cosmopolitan.
Occurrence: Widespread and common, often in weedy areas. Also in damp places, lawns and gardens.
Identification:
it is an erect annual
the leaves are grey from the covering of woolly hairs
it has clusters of small flower heads which are along, or at the ends, of the stems
the petals are yellow and the outside of the flower heads are yellowish.
Similar species: White Cudweed (Vellereophyton dealbatum) is similar in size and habit. It has white petals, and the flowers are woolly on the outside.
Helichrysum was formerly a large genus. All of the local former members of this genus have now been placed in other genera, and Jersey Cudweed reclassified as a laphangium. Some authorities keep Jersey Cudweed as a Pseudognaphalium.
It is not known whether or not the local Jersey Cudweeds are introduced or native.
Photos 1: Dried plants. Franklinford.
2: Jersey Cudweed growing among basalt rocks. Cairn Curran Reservoir.
3: Jersey Cudweed, Harcourt North Reservoir.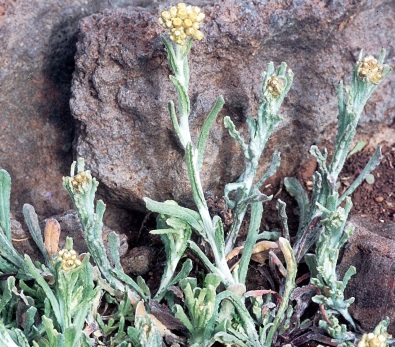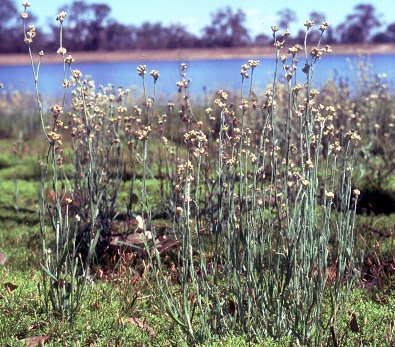 ---