Plants of the Castlemaine District
Downy Grevillea - native (Grevillea alpina)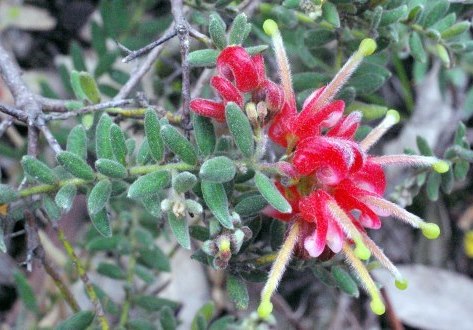 Family: Proteaceae (Protea family).
Native.
Other names: Cat's Claw Grevillea (an unsuitable name for such a beautiful plant).
A common bushland plant.
Identification:
it is a shrub with downy leaves
the leaves curl backwards at the edges
the flowers are red and white, or mainly cream, or rarely, pale orange
the flowers are a typical grevillea ("spider-flower") shape.
Grevillea alpina has a wide distribution with many geographical variants in flower colour and size. Most of the local plants are red and white. At Walmer and Kalimna Point (where the grevilleas may be seedlings from planted specimens) the flowers are cream. A rare variant in Carpenters Lane, Walmer, has pale orange flowers.
Grevillea alpina was first collected by Major Mitchell from Mt William, in the Grampians. With a companion he spent the night there, and almost froze to death. Many of the plants collected there were given names such as alpina, alpestris, glacialis etc. The name alpina is not particuarly suitable for Downy Grevillea as it is mainly a lowland species.
My first record of the name "Downy Grevillea" was its use by Walter Bissell, in a report in the Bendigo Advertiser c 1860 on the plants of the Ravenswood District.
Name. Grevillea: after C. F. Greville 1749-1809, one of the founders of the London Horticultural Socity.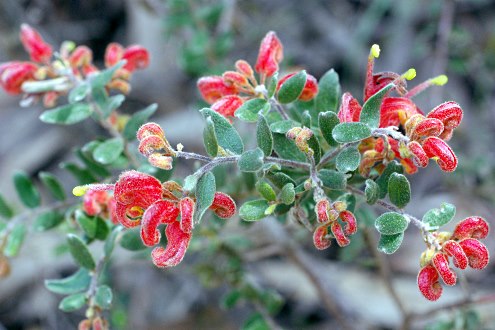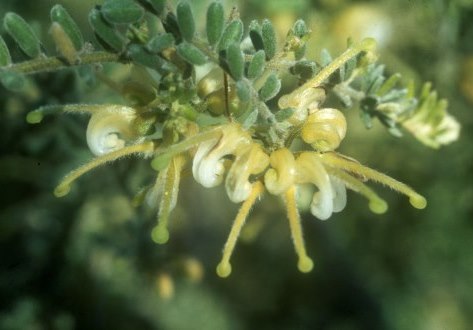 Photos. Downy Grevillea. 1: Kalimna. 2: Muckleford. 3: Cream coloured form. Kalimna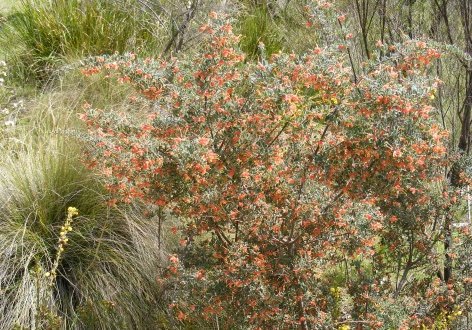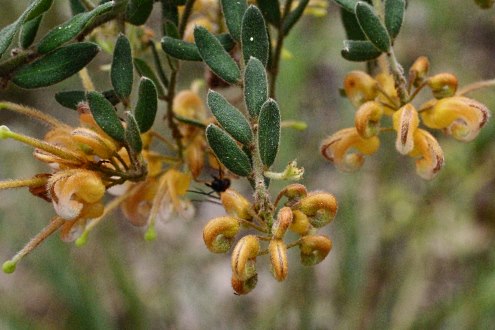 4: South end of Fryers Ridge Road. 5: Colour variant. Carpenters Lane, Walmer.
---