Is it a native?
Whitlow Grass - introduced (*Erophila verna subsp. praecox)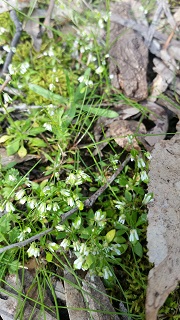 Family: Brassicaceae (Cabbage, Turnip family).
Native of Europe.
Occurrence: Scattered.
Identification:
it is a small plant to 20cm high (but all that I have seen are far less)
it is leafless except for the basal rosette
the four pink to white petals are deeply divided
the fruit is less than three times as long as broad.
Subspecies verna is also likely to occur. Its fruit are more than 2.5 times as long as broad.
Although called a "grass", it is a member of the cabbage family.
Image: Whitlow grass. Green Gully.

---