Is it a native?
Heron's-bill - introduced (*Erodium brachycarpum)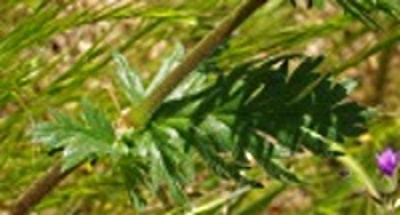 Family: Geraniaceae (Geranium family).
Native to northern Africa.
Occurrence: Scattered.
Identification:
the leaves deeply divided with more than 3 lobes
the hairs at the base of the flowers are glandular (i.e. with sticky tips)
the lobes have stiff white hairs.
Photo: Leaves. Castlemaine.

---