Plants of the Castlemaine District
African Love-grass - introduced (*Eragrostis curvula)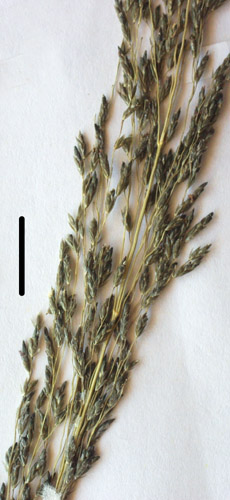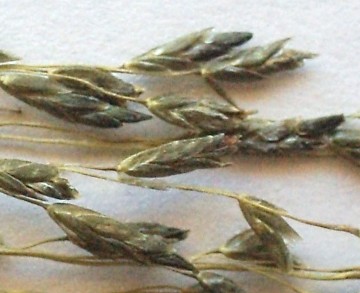 Native of southern Africa. Perennial. C4.
Family. Poaceae (Grass family).
Identification:
it is an erect leafy grass to 1m
the flower sprays become very open and diffuse
the glumes are shorter than the lemmas
the spikelets are very narrow, many-flowered and unawned and are a dark leaden-green colour
the leaves are narrow, and curved at the tip
the ligules are 0.3-1mm long and fringed.
The spikelets are small (less than 1.5mm wide and 4-10mm long) .
It is a noxious weed and listed Regionally Controlled in central Victoria.
African Love-grass is a troublesome weed, particularly in irrigation districts. It can form a dense sward that crowds out other plants. It differs from Weeping Love-grass in that the lower branches of the flower clusters of African Love-grass are not in whorls (rings), the spikelets are not pressed to the branch arms, and it forms dense leafy tussocks.
eros: love; agrostis: grass, referring to the delicate flower clusters of some species; curvula: with a short sharp curve, referring the the curved leaves.
1, 2: Portions of the flower spray. The spikelets are dark coloured. 3: Flower spray with leaves. The leaf tips are curled. 5: African Love-grass tussock with curved leaves.
---