Plants of the Castlemaine District
Stink Grass - introduced (*Eragrostis cilianensis)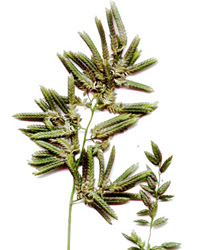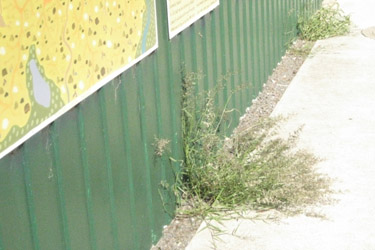 Native to the Meditteranean region. Annual. C4.
Family. Poaceae (Grass family).
It is moderately common along roadsides and in nature strips and gutters.
Identification:
A spreading grass to about 30cm
the flower cluster is an open spray
the glumes are shorter than the lemmas
the spikelet has numerous, closely arranged florets
the spikelets are more than 5mm long and a leaden brown colour
the leaves are flat
the leaf margins have small raised glands, and there are yellowish yellow bands below the nodes along the culms
the ligule is 0.5-1.5mm long and shortly hairy.
A malodorous grass.
The odour, the glandular leaves and the yellow bands below the nodes distinguishes this grass from other local love grasses.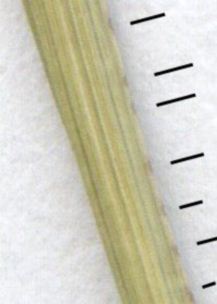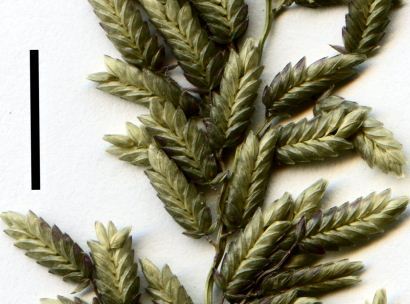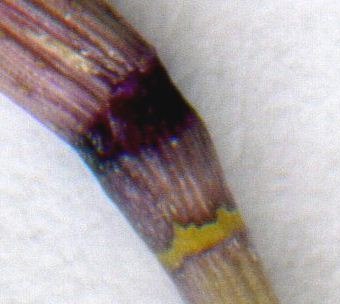 eros: love; agrostis: grass, referring to the delicate flower clusters of some species; cilianensis: from Cigliano Italy.
1: Stink Grass. Mechanics Lane. 2 : Flower cluster (a panicle).
3: Glands along the leaf stalk (arrowed). 4: Spikelets. Castlemaine. 5: Yellow stripe below a node. All: Castlemaine.
---