Scale bar: 1cm.
Variable Willow-herb - a native (Epilobium billardierianum ssp. cinereum)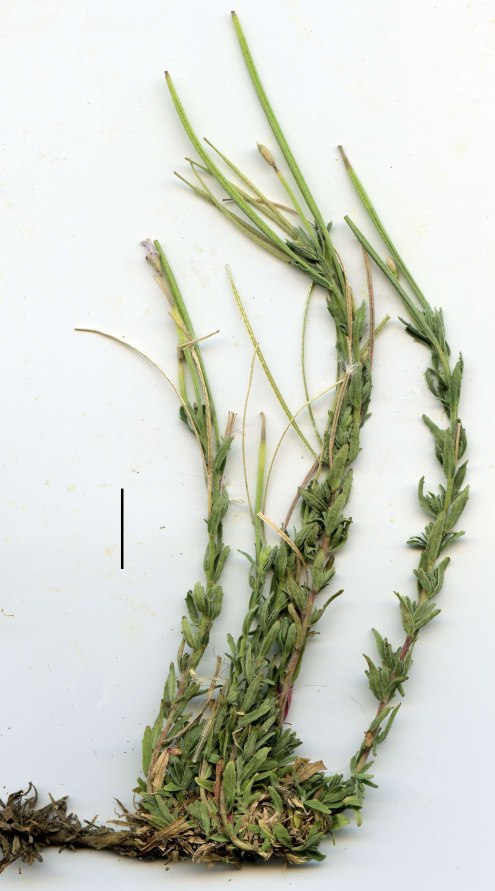 Family: Onagraceae (Evening Primrose family).
Native of Australia.
Occurrence: Widespread and common. It often grows in weedy places such as gutters, nature strips and roadsides.
Identification:
like other Willow-herbs, it has long, slender, stalk-like fruit, usually held erect and the petals are on the tips of the fruit
it is a softly hairy plant with short (less than 1 mm) hairs
the flowers are pink to pale, and are at the ends
the leaves are coarsely toothed with 1 to 6 teeth on each side
the seeds have short tufts of hairs, which aid in wind dispersal of the seeds.
Similar species: The native Smooth Willow-herb (Epilobium billardierianum ssp. billardierianum) is similar but usually has broader leaves that have finer, more numerous (up to 20 per side) teeth. The introduced Hoary Willow-herb (Epilobium hirtigerum) has longer hairs, and has a greyish appearance.
Glandular Willow-herb (Epilobium ciliatum) is an annual weed of damp and well watered places. It often grows in nursery pots.
Photos: Variable Willow-herb
1. The flowers are at the ends of slender, stalk-like fruit. Castlemaine. Most of the leaves are in opposite pairs.
2. The fruit has opened to show the seeds with hair tufts. Forest Creek.
3. The fruit are finely hairy. Castlemaine.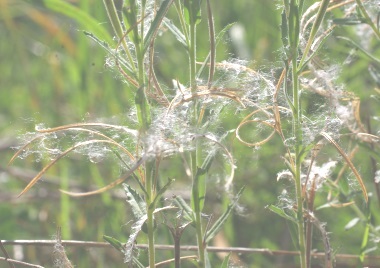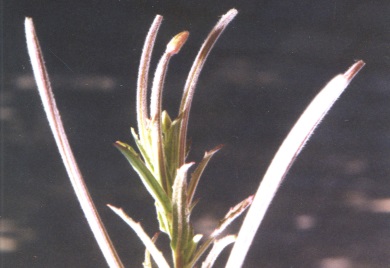 ---