Is it a native?
Black-heads - native (Enneapogon nigricans)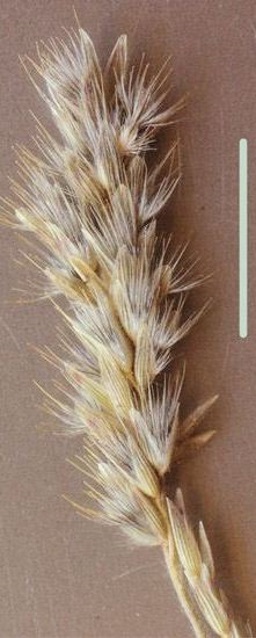 Native. Perennial or annual. C4.
Family. Poaceae (Grass family).
Uncommon locally. Native grasslands and woodlands to the north.
Other names: Niggerheads.
Identification
The flower cluster is dense and contracted panicle
the glumes are about half of the lemma length (body plus awns)
the lemmas have nine awns
the spikelets usually usually have a fertile and a sterile floret
the backs of the lemmas are ribbed, and are hairy on the lower part.
the leaves are flat or inrolled
the ligule is a rim of hairs to 0.5mm long.
The nine-awned lemmas are distinctive. The awns are about twice the length of the lemma body. The flower heads are dark coloured, hence the name 'black-heads'. Each spikelet has several florets, only one of which is fertile.
ennea: nine; pogon: a beard (Greek), referring to the 9-awned lemmas; nigricans: black, referring to the dark-coloured flowers.
1: Black-heads at Natya. 2: The distinctive 9-awned lemmas. 3, 4: The flower cluster is a contracted spray (panicle).
---