Plants of the Castlemaine District
English Couch - introduced (*Elytrigia repens)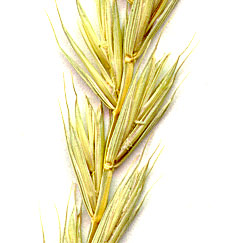 Native to Europe. Perennial. C3.
Family. Poaceae (Grass family).
Uncommon. A weed of damp places.
Identification
the flower cluster is a spike i.e. with stalkless flowers
the glumes are longer than the lemmas and about equal to the spikelet length
the lemmas are shortly awned
the leaves are flat
the ligule is membranous, shortly toothed and 0.3-1mm long.
English Couch, spreads by underground runners. The flowers resemble those of the rye grasses, in that the stalkless flowers are arranged in recesses along the main stalk. It differs in that spikelets of English Couch has two glumes, compared to the single (outer) glumes in Rye Grasses. It also differs in its spreading habit.
elytron: cover; gea: ground or earth, referring to its creeping habit; repens: creeping.
---