Is it a native?
Spike-rushes - native (Eleocharis species)
Family: Cyperaceae (Sedge family). There are at least 3 species.
Common Spike-rush - native (Eleocharis acuta)
Occurrence: Widespread on swamps and lake edges.
Native to Australia, NZ and New Guinea.
Identification:
it is has hollow stems, to a few mm thick
it grows to about 50cm high, but is usually less
the flowers form a more or less cylindrical cluster at the ends of the stems.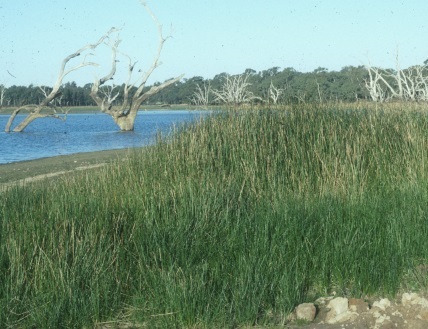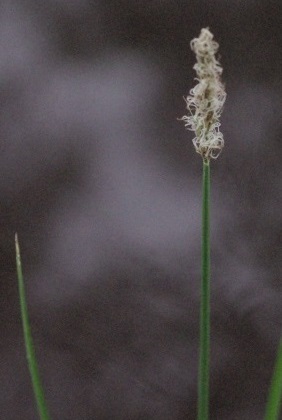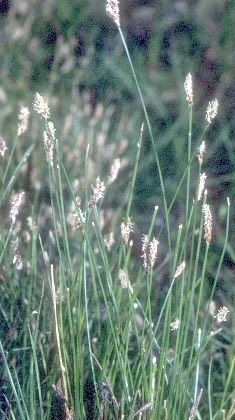 1: Spike-rush flowers. Harcourt North. 2: Flower cluster. The name "spike" refers to the flower arrangement, in that the flowers are stalkless and attached diretly to the stems.
3: Dense Spike-rush, Lake Eppalock.
---

Tall Spike-rush (Eleocharis sphacelata)
Occurrence: Grows in water up to 5 metres deep.
Native to Australia and New Guinea.
Identification:
the stems are hollow and about finger-width thickness
the flowers are in a terminal cylinder.
Tall Spike-rush is used by basket makers.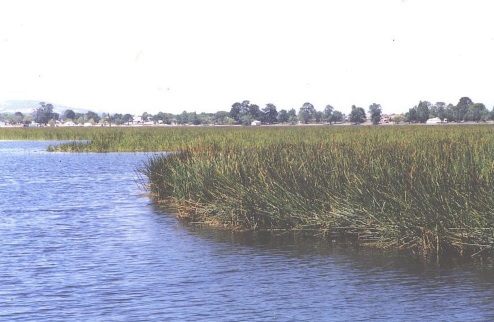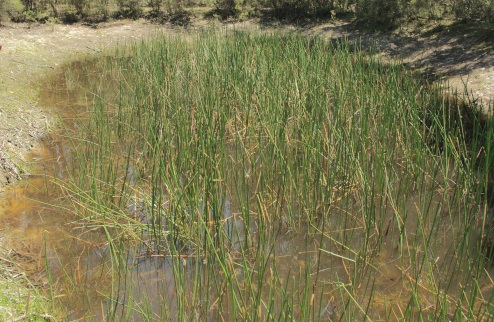 1: The cylindrical flower cluster. Fryers Ridge.
2: Dense Tall Spike-rush. Lake Wendouree.
3: Tall Spike-rush growing in a wet depression. Enfield.
---
Small Spike-rush - native (Eleocharis pusilla)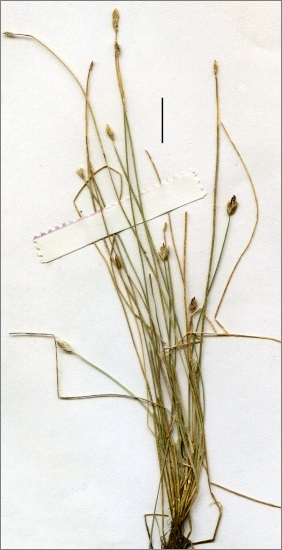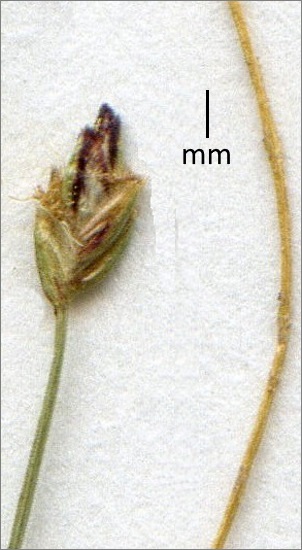 Native to Australia and New Zealand.
Scattered.
Occurrence: Damp areas e.g. at the edge of reservoirs.
Identification: It is a small spike-rush with very narrow stalks and usually growing to less than 15cm. Size alone is not sufficient for identification, as Common Spike-rush can have a similar size in hard conditions. Good magnification is needed to see flower details. However in general
it grows to about 15cm, but often less
the stalks are narrow, about 0.5mm wide, with very slender leaves
the flower cluster is egg-shaped and 2-7mm long
the leaf sheaths are thin-textured (membranous) and the mouth (the junction of the leaf and the sheath) is oblique and usually loose.
1: Flower enlargement. 2: Pressed specimen. Moolort.

---