Plants of the Castlemaine District
Panic Veldt-grass - introduced (*Ehrhartia erecta)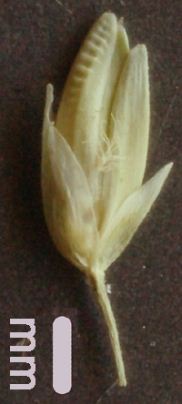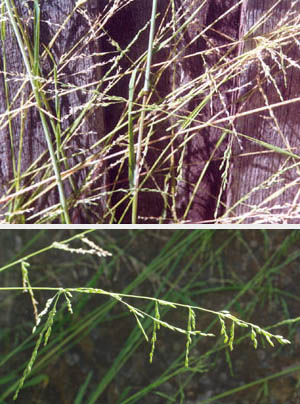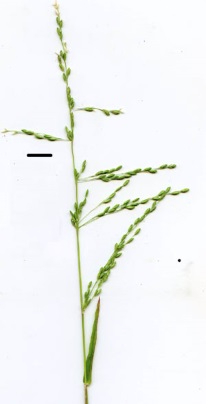 Native to South Africa. Perennial. C3.
Family. Poaceae (Grass family).
Occurrence: Panic Veldt-grass is a widespread and common weed in built up areas.
Identification:
the flowers are along slender arms branching from the main stem
the glumes are shorter than the spikelets
the spikelets have two sterile lemmas below the fertile lemma
the lemmas and glumes are unawned and the lemmas have corrugations at the side
the leaves are flat
the ligule is 2-3mm long, and blunt or truncate
the branches of the flower spray tend to be more or less at right angles to the main stem.
Veldt grasses have flowers clustered into a slender spray. The spikelets have three florets; a bisexual floret above two sterile florets
The flowers of Panic Veldt-grass are in an open branched spray.
The erect habit, the distinctive panicle arms, and the corrugated lemmas make this a distinctive grass.
It is an environmental weed.
Ehrhartia: After F. Ehrhart, an 18th century Swiss botanist; erecta: upright, perpendicular.
1: The open flower sprays with straight panicle branches and attached spikelets. 2, 3: Panic Veldt-grass growing between the footpath pavement and a paling fence. Templeton St.
4: The lemma with distinctive corrugations.
---