Plants of the Castlemaine District
Summer Grass - introduced (*Digitaria sanguinalis)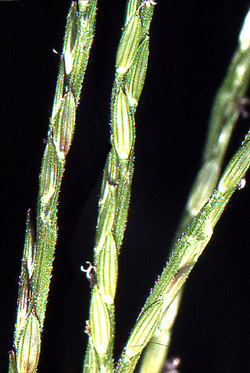 Native of Asia and southern Europe. Annual. C4.
Identification
a windmill grass, but the radiating arms are usually slightly offset
the first glume is tiny, or absent
the spikelets are in pairs, one stalked and the other stalkless
the spikelets are not awned.
each spikelet has two florets, one fertile and the other sterile
the leaves are flat
the ligule 1-2mm long, and truncate or eroded.
It is a common weed of gardens, nature strips, and disturbed land. It grows prolifically in summer. It differs from most windmill grasses in that the radiating arms are usually slightly offset.
Digitatus: with fingers; sanguinalis: of blood red colour, as in photo L2.
1. Summer Grass (Castlemaine). The spikelets are pressed aginst the arms and without awns.
2: The radiating arms are offset. 3,4: The stems and flower sprays redden as they mature. Castlemaine.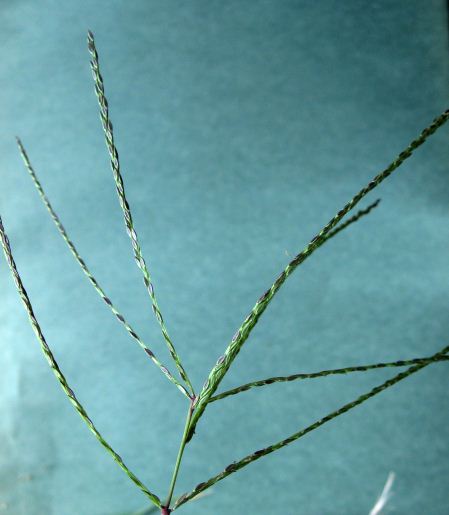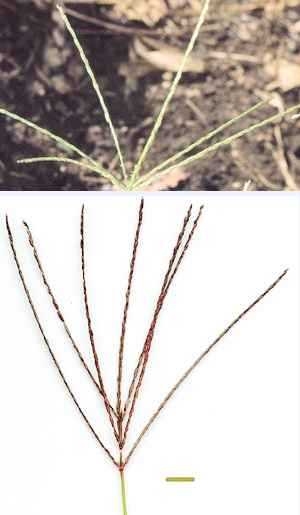 ---